Professor David Headlam presents blues man, Robert Johnson, April 20, 2009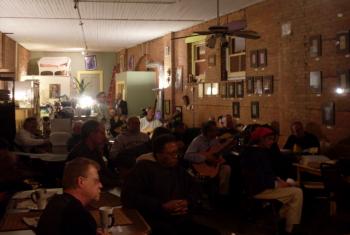 Enthusiastic audience at the Mez
Woke up this morning,
didn't know what to do
need me somethin' to say
somethin' to say about you..
got a whole lot of work to do
got to write that review
yeah, got to write that review...
The Mez was filling up with friendly faces carrying guitars in anticipation of Professor David Headlam's discussion of bluesman, Robert Johnson. Dave is professor of music theory at the University of Rochester. Originally from Ontario, Canada, he has had a lifetime interest in American blues, Robert Johnson and the migration of the blues form.
...went on down to the House of Hamez
saw lots of fine folk there
it was all bout the past
they were bringin' in gui-tars
havin' themselves a blast
havin' themselves a blast...
Fred Vine was warming up on Lonnie Johnson's guitar with his own interpretation of the blues and Dave joined him while we all settled in. . Lonnie Johnson (no relation) was another great blues man and his guitar was on loan to the Guitar Club from Bernunzio's guitar shop. Rochester has lots of blues connections including the forty-year residence of Son House.
"baby fix your baby one more drink
hug your daddy one more time..."
(Malted Milk - Robert Johnson)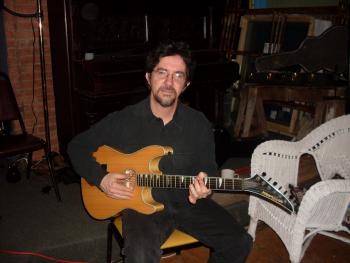 David Headlam, Professor of Music Theory, UofR
Dave Headlam grew up in the Led Zeppelin era and heard the blues influence in the rock music of those days. He told us how Robert Johnson and his music spoke to him. How is it that an unknown black blues man's music migrated from America to England and back again in the 1960's and 1970's?
...you don't know nothin' 'bout us, Bob Johnson
you don't know 'bout us at all
not even Professor Headlam
oh, he knows a whole lot about you!
Dave says that you speak to him
ever' time that you play
you speak to him ever' time you play...
Robert Johnson lived a short, hard life from 1911 to 1937. He recorded 29 songs in 41 takes in 1936 and 1937 in hotel rooms in Texas. Only a couple of them were released during his life time.
Johnson's early life is murky, but he knew about blues players who went before him and listened to their recordings. He was in the first generation to have recordings available. This meant that he could hear their music the same way every time he listened to it. His interests were wide and included all kinds of singers, like Bing Crosby. A few of his recordings give us a hint of some other styles that he knew. They say that W. C. Handy had heard a player playing bottleneck blues at a bus stop in 1903. The blues had been evolving for some time. Johnson was the culminating figure of this evolution and became a model for many who followed.
...I hear you went down to the Crossroads
trying to find your way
the devil's in the details
how come you died so young, Bob Johnson?
you mighta played at Carnegie Hall!
who did you sell your soul to
and who did you meet on the way
who did you meet on the way?...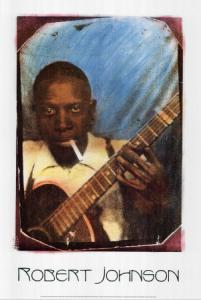 Blues Man Robert Johnson
Johnson's style is simple and complex all at once. The guitar carries melody, harmony and bass at the same time with his voice weaving all around them. His thumb drives the bass, and the meter comes and goes in a tidal wave of sound to fit his story. He adds beats and measures to suit himself and has inexplicable progressions that catch you by surprise. Sometimes you think you hear two or three guitars when there is only one.
Professor Headlam used the latest technology to illustrate his points about Johnson and his music. We were treated to photos of Johnson and videos of later musicians doing Johnson songs in their own style; people like Eric Clapton and Keith Richards. Johnson had a great influence on many of the musicians who followed him and still does. There have been Muddy Waters, Bob Dylan, Cream and many others. Rock musicians have always been attracted to his strong bass, steady beat and his melodic licks. The recordings sounded amazingly clean for that early era. We repeated some songs, and at times Dave would conduct along with the music to illustrate a point inviting us to join in with him.
...lots of folks knew Bob Johnson
folks like Waters and Dylan
men like Clapton, and Hendrix
and yeah, the Stones, too!
they listened and played their own way
all those songs that you sang
we all still got the blues
still don't know what to do
we still don't know what to do...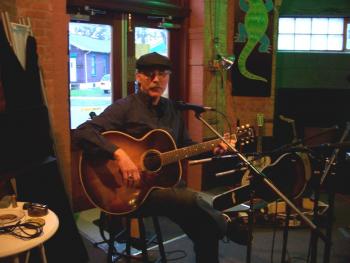 Fred Vine playing Lonnie Johnson's Guitar
Fred Vine, our resident blues man, added an important dimension to the presentation, playing each song in turn after listening to Johnson's version and lending his own commentary to the discussion. We listened to songs like: Cross Road Blues, Love in Vain, Come on in My Kitchen, Kindhearted Woman Blues and Terraplane Blues

"When the train it left the station, `t was two lights on behind
When the train it left the station, `t was two lights on behind
Well the blue light was my blues and the red light was my mind
All my love`s in vain"
(Love in Vain – Robert Johnson)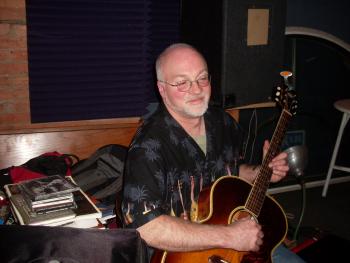 Kimo Wayne Knox, Professor of Optics, UofR
We then had the added pleasure of hearing from Professor "Kimo" Wayne Knox, professor of optics at the University of Rochester. Kimo and his wife, Ka'iulani are long time proponents of Hawaiian culture, dance and music. He told us about the history of Hawaiin slack key guitar. In Hawaii there are at least one hundred different guitar tunings. He explained to us how the guitar was introduced into Hawaii around 1820 possibly by the Mexicans and the Argentinians.
Robert Johnson used a number of different guitar tunings unlike most other guitarists classical or popular who employ only a few at most. Professor Knox speculates that Robert Johnson might have learned some of his tunings from a Hawaiian guitarist, certainly an intriguing concept if not conclusive. He gave several examples of Johnson's tunings that could also be found in Hawaiian-style playing. Dave wanted to know how there could be blues in Hawaii where the sun always shines!
...did you know a Hawaiian man
did he play his guitar for you
did he loosen up the strings
to play the hula music
and play some other things
did you loosen the strings, too?...
Kimo then played the Hula Blues from around 1920 for us which he claims is neither hula nor blues! It was very enjoyable whatever it was! Kimo tells us that bottleneck began when some one accidentally dropped a comb on his guitar!
There was lively discussion with the audience about Johnson's voice quality and recording techniques. Professor Headlam suggested that he may have recorded with his back to the equipment in his hotel room in Texas. It was also pointed out that the microphones of the time were much like the speakers with long conical horns that emphasized midrange sounds.
Fred Vine followed the presentation with a brief introduction to playing a blues song. Starting in G tuning, he guided the audience step by step through the fingering to reach the shuffle beat of "Travelling Riverside Blues."
"If your man gets personal, want to have your fun...
We can still barrelhouse, baby, 'cause it's on the river side
Now you can squeeze my lemon till..."
(Robert Johnson)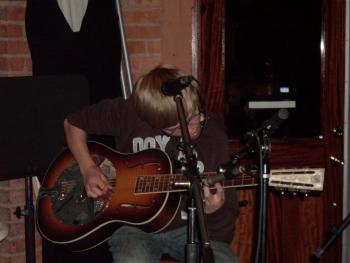 Alex Vine, the Next Generation Blues Man
The evening concluded with Fred's son, Alex singing and playing lead on his interpretation of Cross Roads Blues, and his original, Skateboard reflecting Alex' other passion. Fred played accompaniment on guitar and harmonica.
And so ended a happy evening of the blues!
...there's blues enough for all of us
We know just what it is
We're trying to drown those blues away
but they seem like they're here to stay
yeah, it seems like they're here to stay!
Our heartfelt thanks to:
Professor David Headlam, professor of music theory, University of Rochester, Robert Johnson specialist
Professor Wayne Knox, professor of optics, University of Rochester, Hawaiian slack key guitarist, authority on Hawaiian culture and music, proponent of the blues/slack key connection, RGC presenter January 13, 2008
Fred Vine, Rochester's favorite blues man, songwriter, singer, guitarist, RGC presenter November 18, 2008
Alex Vine, budding blues man, daring skateboarder
Kinloch Nelson, planning, production, MC and photos
Jerry Carter,sound
James Rowe, hospitality
Richard Taglieri, notes and photos
Audience: people like you
Share this page:

Facebook

Del.icio.us

StumbleUpon

Digg

Reddit