George Collichio Presents "Looping & Special Effects," August 18, 2009
As has been the case for the last few months, I was the first club attendee through the door for the final RGC meeting to be held at The Mez. The next person to arrive was shortly thereafter. He was a new face to the club. I was on the stage playing and he approached me. I introduced myself to him as if to greet a new member and, as it turned out, he was the nightís presenter; George Collichio.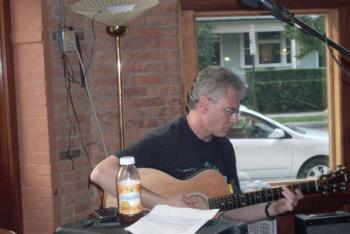 George Collichio
George owns and operates the Collichio School of Music, which has two locations in suburban Rochester; Spencerport and Webster. According to his web site: ďFor over twenty years, George has shared his unique musical gifts through nationwide live performances, seminars and workshops. He has worked with and opened for many national recording artists including internationally known guitarist Pierre Bensusan. Also, Whirlwind has endorsed George Collichio.Ē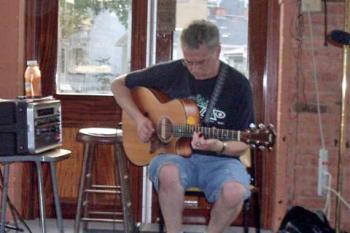 George Collichio with Lexicon
Being there early enough and without anything pressing to do, I offered to help George carry all of his equipment into the venue. It didnít take him very long to set everything up, and he was playing to a nearly empty house. Acoustically, of course, because the sound person had not yet arrived. Eventually more people showed up and Jerry Carter turned on the house system. Moments later the room was filled with music. It sounded like an entire ensemble playing all at once, with independent bass lines, back-beats, rhythms, melodies, harmonies, and lead solos. The song being played was so lush and full of complex layers, that all in attendance stopped what they were doing and stared at the stage with their mouths agape. How can one person do all of this at the same time?
The answer is simple: looping.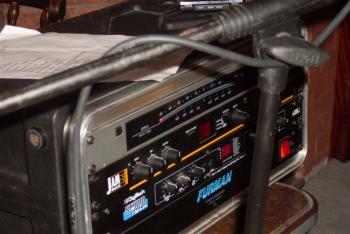 Lexicon
Simply put, a looper is a pedal that allows you to record your own playing and play it back using it as a looped sample in real time. Once a sample has been created, it can be overdubbed to add more layers, or when you are happy with it, you can just play over the top of it. The possibilities are virtually limitless. George said that he was always keen on the looping work of Phil Keaggy (Who, by the way, will be in town on November 14. (RGC Events Calendar) Click here to see a short video of him looping.), but his decision to start looping himself came more out of necessity than inspiration. Looping is a great alternative when a full band is not available, and you want to create a fuller sound. Another plus is that there is nobody to split the paycheck with at the end of the night! He also said that it is also a phenomenal learning and teaching tool. He uses it a lot in his music schools. It helps with internal rhythm, you can loop a section for writing melodies and solos, or you can even play a phrase backwards for a fun little feature.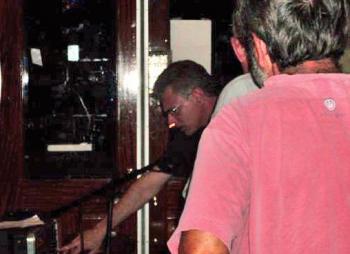 Adjusting Equipment
He spoke briefly about his equipment. He had a small rack with a power conditioner, amp, tuner, and a Lexicon Jam Man Looper with a two-button foot switch. He also brought a second looper to show us; The Boomerang. He said that he bought the Boomerang pedal first because that was the best of what was available at the time. What he really wanted was the Lexicon unit, because that was what Keaggy used, but they were discontinued. Luckily a friend found one of them in a music shop, still in its original box, and they didnít even know what it was! George told his friend to ďPick it up; I donít care what it costs!Ē He prefers the sound of the Lexicon but the Boomerang is more portable and has more features.
He said he never uses a looper with a band because itís hard for a drummer to sync with it, and he never uses it in the studio because he just has the engineer loop it for him. He said that he likes to keep things as simple as possible. There are more pedals with more features out there, but he is happy with what he has. Itís important to know your equipment and practice with it until you can make your loops seamless. The hardest part is getting out of a loop and not having it sound like it was going the whole time. Most importantly, you must keep it musical. Create a groove, not noise. Your electronics are only as good as what you do with them.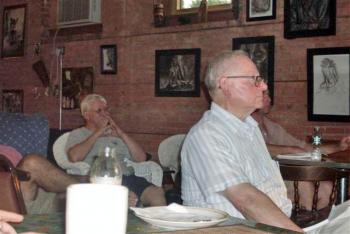 Intent Observers
The presentation concluded early and George entertained questions from the relatively small but very intent crowd. Other loopers and their features were talked about; The Digitech JamMan, The Boss Loop Stations, (RC-2, RC-20XL, RC-50) etcetera. (Here is a website devoted to looping units, their use, and their users. It has all kinds of educational materials for using and/or shopping around for units including independent reviews for each of the ones mentioned in this article and more.) Yet more questions were asked about his Taylor guitar and other miscellaneous subjects. The articulate answers provided reflected Georgeís expertise on the given subject. Finally the night closed with George selling a few CDs and everyone filtering out of The Mez for the last time. It was a great room, filled with great people and great music. The RGC ended their tenure there with a great presentation.
—Mark Grover
Photos: R. Taglieri
Share this page:

Facebook

Del.icio.us

StumbleUpon

Digg

Reddit