Third Annual Presenters' Concert, April 9, 2010
♪ It's 8 pm on an early spring evening as the Rochester Guitar Club fills the Harmony House with guitar enthusiasts. This proved to be a formula for success in 2008 and 2009 and now, 2010 will not be an exception. The combination is successful both artistically and financially. This time around, we have a variety of reviewers, as diverse and interesting as the performers themselves.
So, as the lights dim in a nearly full house, relax and join an appreciative audience in listening to the magic of well played guitars...
—R. Taglieri
♪ Tim Shannon and Dennis Repino as the Rochester Guitar Duo. Tim appeared with Petar Kodzas at the RGC meeting on May 14, 2007 at the Mez.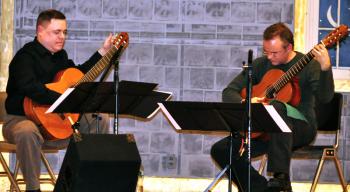 Tim Shannon & Dennis Repino
The first set of the RGC April 2010 Presenters' Concert featured the extraordinary classical guitarists, Tim Shannon and Dennis Repino who together comprise the Rochester Guitar Duo. Tim opened with a solo rendition of "Prelude #3 in A minor", by Heitor Villa-Lobos, a medium-slow piece played with tender phrasing and noteworthy playing dynamics.
Tim, in introducing Dennis to the audience, paraphrased Frederick Chopin's quote: "Nothing is more beautiful than a guitar, save perhaps two." The proof was immediately forthcoming as the duo played three alternately lively and liltingly beautiful Celtic songs: Turlough O'Carolan's "Carolan's Concerto," the Edward Flower arrangement of "The Lass of Patie's Mill," and "The Cherry Tree Carol." In a pre-concert interview, Tim commented that although the pieces were not written for guitar, they sound very much at home on the guitar.
Dennis then took the solo stage to play his composition "American Voyage," which was written for a concert at the Fredonia Opera House and also published in the Guitar Foundation of America's magazine "Soundboard." This reviewer heard pleasant reminders of some of Aaron Copland's work, which is intended as praise for Dennis's taste and skill as a composer.
Tim and Dennis then concluded their performance with a trio of Spanish pieces. The first two were transcriptions of piano pieces, and the last of an orchestral work. All three are very much at home on solo and duo guitars. First was "Sevilla," by Isaac Albeniz; then "Spanish Dance #2", a stately, refined piece using major and minor tonality, by Enrique Granados; and last "La Vie Breve," by Manuel de Falla, alternately passionate and playful in its mood and described by Tim as a "Fiery Spanish Dance."
This review would be incomplete without discussing details of the performers' instruments and playing techniques. Tim's guitar was built by James Holler (Trinity Guitars, Jamestown, NY), and Dennis played a lattice-braced instrument made in 1977 by the Australian luthier John Price. Dennis and Tim employed the use of alternate tunings on one or both guitars in several pieces. They alternately played melody and accompaniment during most of the pieces, allowing each to demonstrate their skills in both areas. Equally notable was their use of harmonics, dynamics, percussive effects and balance between the two instruments. One particularly impressive moment occurred during "Sevilla" when Dennis and Tim played rapid harmony lines in absolute sync with each other. With a nod to John Sebastian, "Nashville cats play clean as country water," and so do our Rochester Cats, Tim and Dennis. We were dazzled by their fancy fretwork!
—John Williamson
♪ George Collichio presented "Looping & Special Effects," to RGC on August 18, 2009 at the Mez.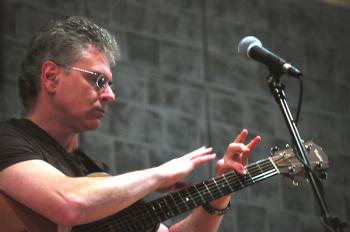 George Collichio
After a bit of tear down and set up time, Kinloch introduced George Collichio. George had given the RGC a presentation on sound looping in live and studio performance and he utilized it seamlessly in every piece he played this evening. He used the Boss RC-50 looping station to weave chord progressions under his lead lines to create room-filling sound. He makes use of many open voicing suspended chords creating a full and beautiful sound for a single player.
George was playing his sweet sounding Taylor 414CE. This guitar is a bit unique in that it is an early model of that line and they were experimenting with different woods for the 400 series. They settled on Sitka spruce tops and Ovangkol backs (an African relative of rosewood). This is one of a few that sports a Cedar top and Koa back. Cedar provides a warmer tone than the standard Sitka spruce and the Koa provides a lot of support for mids and highs—brightness is somewhere between Mahogany and Maple. Koa mellows out a bit after a lot of playing, and George's guitar clearly has been played. It is sweet, smooth, clean and balanced, not boomy and not overly bright.
The first tune George played was "The Call." He laid down a loop of suspended chords with a Brazilian rhythm and then broke into a flat picked lead. Half way through he laid down a descending chord pattern in a 4/4 rock time and played a flurry of 32nd notes for melody on top. A beautiful rubato ending brought the tune to a close.
Next, he parked his flat-pick on the upper bout shoulder and used free flowing fingerstyle arpeggiated open chords with a bit of palm percussion on "The Harvest." Lead was played an octave above. He changes the feel with a solo chordal refrain and then plays an arpeggiated lead line over it. A Dorian minor mode lead line of 32nd notes brings the song to a conclusion
"The Journey Home" is a song George wrote while reminiscing how his grandfather had never been able to return to Italy. This song was very well received when George was able to tour Italy and tell the story. The song starts out with a series of harmonics then a subdued startup in a minor key to lay down a background. Staccato flat-pick leads simulate mandolin. In the middle, a palm percussive loop increases the intensity of the music and the staccato lead is all over the neck up to the 16th fret and then slows to end with the harmonic series that began it.
"Time with You" begins with a strong minor mode bass line with a crossover tap on the sixth string. He then lays down a muffled constant bass note and plays staccato leads once again covering the entire length of the neck. Four rather majestic sounding chords of ascending pitch are then recorded for a concluding movement.
One of the most sensitive renditions I have ever heard of "Amazing Grace" was next, played in a dropped D tuning with what seemed a minor accent. Starting off a bit mournful, intensity increases in the center and finishes a little bit light—a very emotional rendering.
George's final piece was "Tarde De Paz," a very intricate Spanish flavored piece with a two chord loop and staccato lead of 32nd notes that went up the neck beyond the last fret—in fact he was at the bridge end of the sound hole rosette at one point. A second loop looped two leads together and increased the tempo and intensity before the finale. A wonderful piece and a great lead up to our final performer.
—Jeremy Carter & Ted Peck

♪ Loren Barrigar from Syracuse Guitar League recently played for us while expounding on "Songwriting and Musical Arrangement" on March 15, 2010 at Abilene's.
I'm glad I had the chance to go to Harmony House this past Friday, April 9, 2010, and so hear four of Rochester Guitar Club's recent presenters in concert.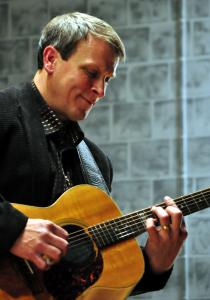 Loren Barrigar
While they were ALL excellent, my review focus was designated solely as Loren Barrigar's part in the show. I last heard Loren play a few years ago in Syracuse, and a short time before that in Rochester, opening for Stephen Bennett. He was a very good player then, and if anything, has acquired some polish and puts on an excellent show!
Loren opened with the jazz standard, "Blue Moon." He then went into one of my favorite instrumentals, Tommy Emmanuel's "Borsalino," and made it sound deceptively easy! These were followed by "Jitterbug Rag," "China Blue" (written by a friend of Loren's from Auburn, and with a really nice a capella opening), a Chet Atkins medley of "'I'll See You in My Dreams" and "Avalon," all the while obviously enjoying our company as much as we enjoyed his.
"It's All Good" is a Loren original composition about coming out of a funk and finding that the world is still a great place, that we can still do great things — capo on the second fret, vibrant, fluid, with some pleasant-surprise chords, followed by a wonderful groaningly bad joke in the Nashville tradition! (Loren, hope you'll forgive me for sharing... "Last night I had a bad dream that I was a car muffler and I woke up exhausted!")
"Tennessee Waltz" was sung with feeling—and a bit of sympathetic laughter for the song's basic sentimentality—-and a tasty guitar break. For those of us who remember the '50s and '60s, "I Can Help" brought us right back!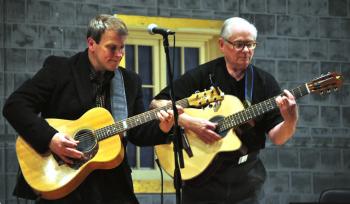 Loren Barrigar & John Williamson
Loren kept the good tunes rolling—"High Wire," "Dance With Me," John Denver's "Take Me Home Country Roads," and a funny-verse version of "Green, Green Grass of Home." He closed by summoning Rochester Guitar Club's own John Williamson to play rhythm guitar on "Yackety-Yax" to the delight of everyone. We called Loren back for an encore—-"Somewhere over the Rainbow."
Loren plays good, honest guitar—-mainly fingerstyle—-with strong Nashville influences, and a repertoire that reaches into jazz, pop, rock, and other sources. Last night Loren played a Maton guitar—the maker favored by Tommy Emmanuel—which comes over with a clear, strong, and well-balanced tone.
—Deb Ross
Photos by Dan Ball
♪ Thanks also to RGC Core Members, Paul Schickling, Jerry Carter, Ted Peck, Jim Doyle, Ross Bracco and Kinloch Nelson for making this production possible.
Share this page:

Facebook

Del.icio.us

StumbleUpon

Digg

Reddit