Guitars with Other Strings & Things at Tango Café., October 3, 2010
This past Sunday at The Tango Café (389 Gregory Street, Rochester), the Rochester Guitar Club presented Guitars with Other Strings & Things, a night of stringed instruments, and guitars with other instruments. It was successful beyond expectations! The evening included eleven performances in all. There were several new faces in the audience including some folks joining the Club.
Ray & Suzanne Braselton from TV Cable Channel 12, producers of the Music Show were present and took a great interest in the proceedings. Ray announced that they are working on producing new episodes for the show from the recent recording sessions with RGC. These will include Spotlight segments on Mark Grover's tapping technique, Chuck Dye's seven-string jazz guitar and Bernie Lehmann, local luthier. They also announced that we will record a Christmas show on Monday, November 8. If you are interested in participating, please contact us at rochesterguitarclub@gmail.com.
So, here's our evening's entertainment!
♪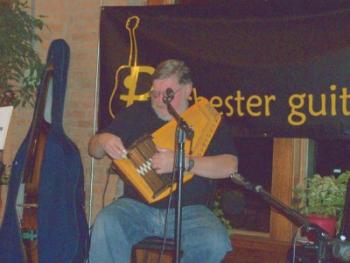 Jerry Carter, also serving as sound engineer, artfully kicked off the evening with his newly-amplified autoharp playing "I Wonder How the Old Folks are at Home" (A. P. Carter) and "Bridge Over Troubled Water." (Paul Simon) Jerry also gave us a brief education in autoharp history.
♪
♪
♪
♪
♪
♪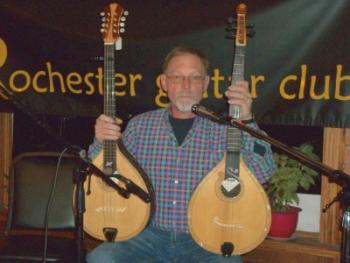 Bernie Lehmann, well-known local luthier, presented some recent models from his shop, an octave mandolin and a "munjo" (octave mandolin strung like a banjo). Bernie treated us to an Irish medley, "The Old Hag/The Young Nag" as well as "O'Carolan's Concerto." Both instruments were made in the last year or so. Bernie presented to RGC on Guitar Making in July 2007.
♪
♪
♪
♪
♪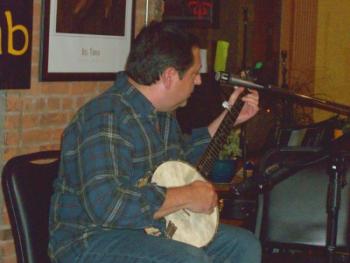 Bill Kenny, played his clawhammer banjo in the old time style – "Fishin' Blues," "Fall of Richmond," and "Black-Eyed Susie" and had everyone tapping feet, tables, etc. He also gave us a good explanation of the different types of banjos and playing styles, especially differences between old time and bluegrass.
♪
♪
♪
♪
♪
♪
♪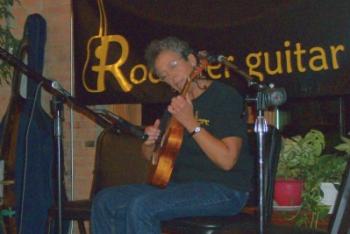 A frequent writer for RGC's website, Deb Ross treated us to "St. Louis Blues" on her concert ukulele, a very nice, jazzy, get-down rendition.
♪
♪
♪
♪
♪
♪
♪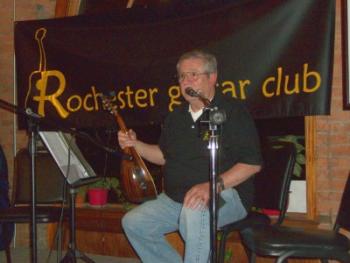 Richard Taglieri brought some European charm to the evening via bowlback mandolin with "Come With Me, My Giselle," (Adam de la Halle) from the thirteenth century as well as the more familiar "Santa Lucia." Richard shared the story of how he acquired this mandolin from Josephine Antonelli, the mother of Johnny Antonelli, local baseball player and tire dealer. The instrument, which had been in a state of disrepair was brought here from Italy by her father probably before 1900. It was beautifully restored by Bernie Lehmann in the 1980's.
♪
♪
♪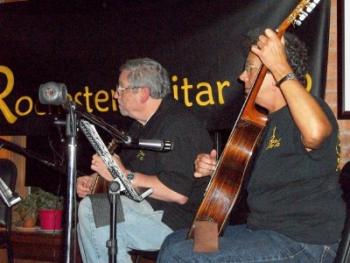 Richard, now accompanied by Deb Ross on classical guitar, continued on mandolin, with "Brazilian Lullaby" (arr. Allan Alexander) and "Barbara Polka."
♪
♪
♪
♪
♪
♪
♪
♪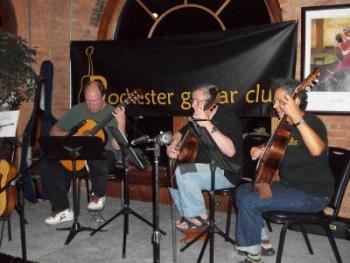 Paul Schickling joined Richard & Deb as they played a selection of guitar trio pieces starting with "Tudelsack" (bagpipes) by J. S. Bach and followed by "O Little Town of Bethlehem" (arr. Andrew Forrest). According to Dave Jones, an RGC member who hales from England, the group was playing the English version of the tune although the lyrics are the same that we know in the U.S. The trio concluded with a suite from the "Mozart Notebook" written by Leopold Mozart for his son, then seven-year-old Wolfgang including "Menuett," "Polonaise," and "Allegro in C Minor."
♪
♪
♪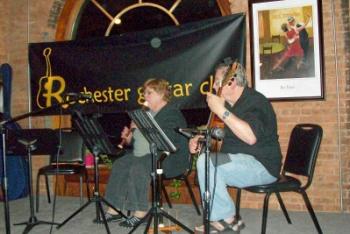 Richard and his wife, Mary played a duet set,
with Mary on alto and tenor recorders and Richard backing her up on classical guitar. Mary spoke about recorders and the Recorder Society. They then played "Estela" (alto recorder) and "Peter, Ring Dem Bells" (tenor recorder)—a really lovely selection!
♪
♪
♪
♪
♪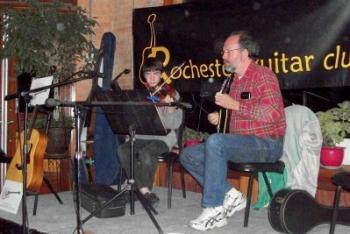 Norm Tibbils and his son, Darren played next, with Norm on flatback mandolin and fourteen-year old Darren fiddling, very skillfully, I might add! Their set included "Britches Full of Stitches," "Bill Sullivan's Polka," "Ballydesmond Polkas #1 and #2" and "Harvest Home." Norm teaches at Hochstein.
♪
♪
♪
♪
♪
♪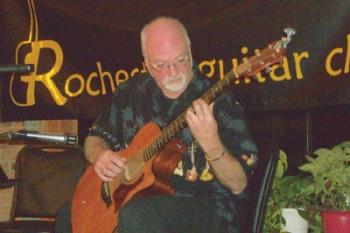 Next we had Wayne "Kimo" Knox on tenor ukulele playing "Sakura" and "Kapa'a Frenzy." Kimo switched to slack-key guitar with a brass slide and played a haunting piece, "Malie." Kimo and his wife, Ka'iulani operate a Hawaiian Performing Arts Studio in Rochester, presented for RGC in January 2008 and performed in our Presenters Concert in May 2009.
♪
♪
♪
♪
Hawaiian music gave way to jazz improv as Kimo switched instruments again, going with a ukulele bass (this was essentially a concert ukulele refitted with nylon bass strings and appropriately larger tuning machine heads) and bringing RGC member, Ross Bracco and his double bass on board to close the session. They regaled us with a resounding lower register jam session—a perfect way to finish the evening!
Thanks to Debbie, Kerri, Tango Café and the wonderful chili! Thanks to you for joining us if you were there, and we hope to see you at our next meeting!
—Deb Ross/Richard Taglieri
Photos: Richard & Mary Taglieri, Cathy Madigan
Share this page:

Facebook

Del.icio.us

StumbleUpon

Digg

Reddit