Ray Andrews' Presentation: "When Monarchs Ruled & the Guitar was King, Guitar Music in the 17th Century" on March 21, 2011 with ECMS at Messinger Hall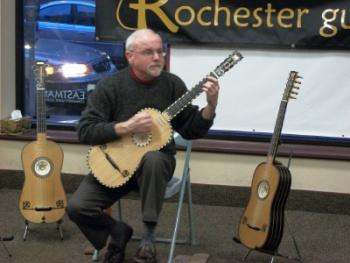 Ray Andrews & his Baroque Guitars
Ray Andrews brought three baroque guitars for his presentation for the Rochester Guitar Club. All three guitars had gut string tied around the neck that functioned as frets and very intricate parchment work in the sound hole called a rose. The rose work appears to be decorative, but has a function of enhancing the sound. Ray stated that luthiers adapted the rose through the history of the guitar, and today it is called the Tornavoz.
Ray's presentation started with Ray playing an instrument built by John Snyder modeled after the Stradivari guitars ca. 1690 with a tuning a/a-d'/d'-g/g-b/b-e'. Strings 5,4,3,2 are doubled (each pair is a course) like a modern 12-string guitar, but string 1 is a single string, sometimes referred to as the melody string or chanterelle.
The second instrument Ray played was built by Nico Van der Waals of the Netherlands, based on the guitars of the Voboam family of Paris ca. 1670's. The tuning of this instrument was a/a-d/d'-g/g-b/b-e'. In this tuning, courses 5 and 4 are tuned an octave apart but courses 3 and 2 are tuned in unison. Again the first string is a single string.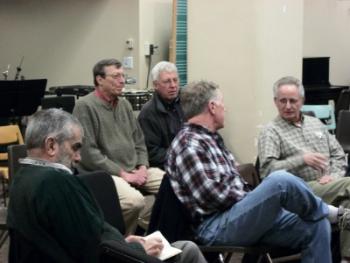 A Rapt Audience in ECMS Messinger Hall
The third instrument was also based on guitars of the Voboam family of Paris and was built by John Rollins. This instrument was tuned a/a-d/d'-g/g-b/b-e'. The Rollins instrument was the most ornate. The question was asked if all the instruments from the period were as ornate as the three Ray presented. Ray explained that the ornate instruments survived because they belonged to royalty and were maintained in museum-like conditions.
The pieces Ray performed on these instruments were composed by Robert de Visee. Fransicso Corbetta, Ferdinando Valdambrini, Gasper Sanz, Giovani Foscarini, Carlo Calvi, Antonio Carbonchi and Santiago de Murcia. There was an evolution to the music as Ray's performance spanned the 17th and early 18th centuries. The performance started with a four-voice chord piece, and the pieces evolved to more lute-like counterpoint. The evening finished with the earliest known publication of a Fandango. (de Murcia)
—Paul Schickling
Photos: R. Taglieri
Share this page:

Facebook

Del.icio.us

StumbleUpon

Digg

Reddit