Introducing John Wiesenthal
On May 11, 2008, John Wiesenthal will be presenting "Adventures South of the Border: guitar music of Mexico, Venezuela, Colombia and Brazil".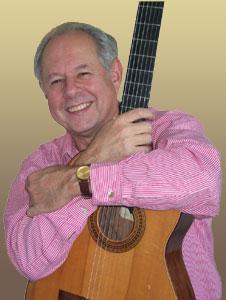 Guitarist John Wiesenthal took his first lesson from folk-music legend Pete Seeger at age 12. At 16, he passed what he learned along the way to surfing buddy Jackson Browne. A philosophy student by age 20, he and friend Richard Meltzer, now the laureate of Rock writers, started the band known today as the Blue Oyster Cult.
John studied with the Venezuelan master Rodrigo Riera and the renowned teacher Emilio Pujol, and earned graduate degrees in music composition. John's first performance on national television was a banjo gig for a celebration of music by black composers. He serenaded for Ronald Reagan at a farewell dinner for the Governor of California.
Hundreds of performances later, he is director of the guitar programs at the Hochstein School of Music and Dance in Rochester, New York, where he works with children and adults of all ages and backgrounds. From John's guitar flow richly diverse styles: the Spanish Classics, Jail House Rock, music from the courts of France, the rhythms of South America and the "I Love Lucy" medley.
In 1986 John founded the Guitar Society of Rochester and served as president for 10 years. He is inventor of the Bird of Paradise capo and markets the product internationally under his business Digital Revolution, Inc. He has composed for orchestra, chamber ensembles and solo guitar and songs. John's composition, Homage to Fellini, for eight flutes received 1st prize in the James Madison University International Flute Composition Contest and is published by Southern Music.
In addition to being a musician and inventor, John is an accomplished artist and squash fanatic. He is currently advocating for attendance enforcement in the Rochester City Schools.