Welcome to the Rochester Guitar Club!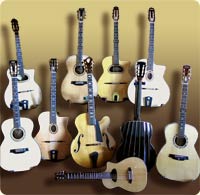 Free Guitar Strings for New RGC Members!
♫ Bernunzio Uptown Music is now offering a one-time, free set of guitar strings to new, first-time RGC members. Join RGC at any meeting and receive a coupon valid for a free set of guitar strings at Bernunzio Uptown Music. Click here for more membership information. This offer is for new members only.
♫ Welcome to The Rochester Guitar Club, an informal group for the appreciation and enjoyment of guitar music, lore and playing. Come on out to a meeting! They are normally held on the third Monday of each month, usually in the Red Room next to the Asbury Methodist Church, 1010 East Avenue in Rochester. You are welcome to come early and meet with fellow members.
♫ Check our event calendar to verify meeting times and locations and to learn more about guitar music events in and around Rochester as well as other guitar-related information.
No events scheduled at this time.
Latest Guitar Club News ...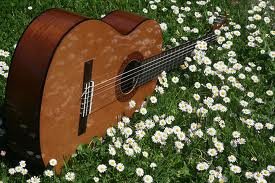 "Music expresses that which cannot be said and on which it is impossible to be silent.
~Victor Hugo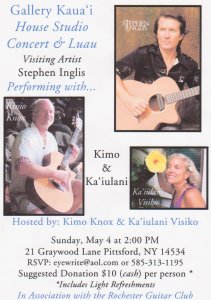 Come Share Aloha with Kimo Knox & Ka'iulani Visiko in Association with the Rochester Guitar Club!
♫ Visiting artist Stephen Inglis performing with Kimo Knox & Ka'iulani Visiko on Sunday, May 4 at 2 p.m., at Graywood Lane in Pittsford. Suggested donation $10 (cash) per person including light refreshment. RSVP: eyewrite@aol.com or 585-313-1195.
This Monday!...RGC Round Robin Session in the Red Room on April 21! Bring your guitar & a tune or two!
...Thumbs Up from the Editorial staff of the Democrat & Chronicle
♫ "For performers at a benefit concert last month in mem­ory of the late Pete Seeger. The Golden Link Folk Singing Society, Heartland Concerts, the Rochester Guitar Club and Tunes by Tracks helped raise some $1,700 to benefit the Gen­esee Land Trust and other organizations."
"Wood, Wire & Soul"
Local luthiers make the news!
Pick up a copy of City Newspaper or read it on line
on the City website!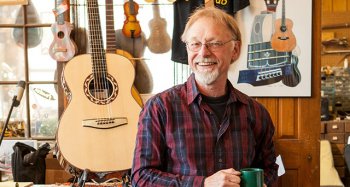 ♫ Five local guitar makers discuss their craft in the April 2 edition of "City" newspaper. This amiable and talented group cover the gamut of guitar construction from bark to polish, from electric to eclectic, from dolce to vita.
Read About Recent Guitar Events:
Beatles Night in the Red Room on February 17
50th anniversary celebration
of the Beatles' first U.S. tour in the U.S. in 1964.
See the complete play list
♫ A description of many of RGC's past events can be found on the Articles page going back to 2007.
. . . .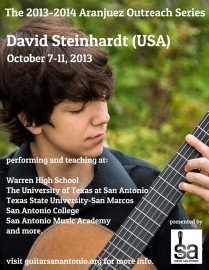 ♫ David Steinhardt, guitar student of Petar Kodzas and member of the ECMS youth guitar ensemble performed on NPR's "From The Top" in Boston on Friday, March 28. The program will be broadcast on WXXI-FM 91.5 on Sunday, April 27 at 5 p.m. more about David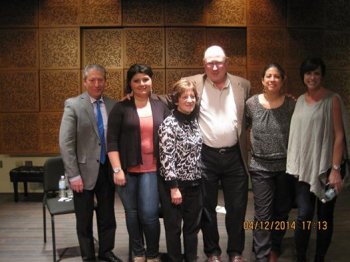 RGC member, Paul Schickling attended the 2014 Great
Lake Guitar Society festival at Buffalo State.
Pictured from left to right: Micheal Andriaccio,
Gohar Vardanyan, Joanne Castellani, Paul Schickling,
Gaelle Solal, Martha Masters
Attention — RGC Opinion Survey!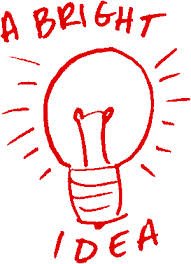 ♫ RGC welcomes your opinion and ideas for club activities! Share your suggestions by clicking on the Contact Us button on this website or print an Opinion Survey Form that you can fill out and bring to the next meeting. more
♫ That's it for now. Keep your eyes on this website for announcements of RGC events as well as other guitar news! Send any news you may have to us that you think should be included on the calendar.
♫ See you at the next RGC Meeting, Monday, April 21.
Read more articles here.
UPCOMING EVENTS
Thursday, April 24
Old Timey Jam
Bernunzio Uptown Music
6:30 - 8:00pm
Saturday, April 26
RGC Core Meeting ~ help plan RGC activities!
Contact Us Button to request details
2:00 - 4:00pm
Saturday, April 26
David Francey Tickets: $22, $18 Golden Link members, $10 students (12 and under free)
Rochester Christian Reformed Church, 2750 Atlantic Ave., Penfield
7:30pm
Sunday, April 27
From the Top ~ with David Steinhardt, guitar
WXXI FM Radio
8:00pm
Tuesday, April 29
Lily Afshar in Concert ~ Free
Setnor Music Hall Crouse College of Music
8:00pm
For more info check our Calendar.