Muriel Anderson Comes to Town, September 17, 2008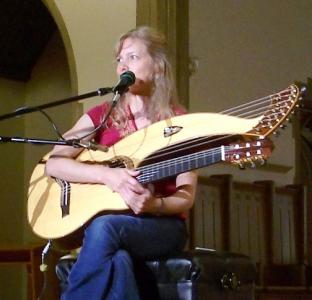 Muriel Anderson
Wednesday evening, September 17, at the Nazareth College Chapel we were treated to two hours of delightful guitar music by Muriel Anderson. Muriel who currently resides in Nashville spends much of her time on tour throughout the world giving concerts and workshops. Each one is as fresh as her first, and she is as delightful as her music. Muriel performs on a classical guitar with classical technique, but her repertoire is as eclectic as her interests including her own originals, standards, Spanish, Japanese, classical, bluegrass, folk, and even a Sousa march!
In addition to the guitar Muriel plays a harp guitar, a popular instrument a century ago and reminiscent of the Renaissance theorbo. This unusual instrument has a second neck with extra unfretted long bass strings adding low range accompaniment for use at the player's discretion. Her own harp guitar has nylon in place of the usual steel strings and is a bit smaller making it somewhat easier to transport from concert to concert and matching her classical guitar style.
The Nazareth College Chapel is an ideal setting for this type of intimate performance, and it was the collaboration of Nazareth College and the Rochester Guitar Club that made this memorable performance possible.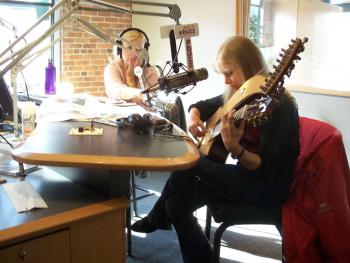 Muriel appearing on 98.9, The Buzz
The introduction and credits to all those who made the event possible were given by Kinloch Nelson of the Rochester Guitar Club, and the audience gave a warm welcome to Muriel Anderson. Some of those present had attended her workshop the previous evening at Bernunzio's on East Main Street in Rochester. At that event Muriel emphasized tone color and how to produce it with properly cared for nails, as well as the art of arrangement.
Muriel played the harp guitar for the first four pieces, the first of which was her own "Lady Pamela," a lovely melodic song nicely enhanced by the extra bass strings. Muriel's particular attention to tone quality and articulation is evident beginning with this song. This focus is the main reason she prefers nylon to steel being always aware of her sound and achieving great presence in her renditions.
Muriel recently spent some time on Long Island in a peaceful setting by the sea. It was there that she composed her charming and sensitive vocal with guitar "Castles in the Sand" having spent much time building them herself and having seen them disappear. We discover that Muriel's voice and her viewpoint are as charming as her instrumental skills, "It's for the people, the care you can bring; not for the castle, not for the sand; it's for the smile you bring to me."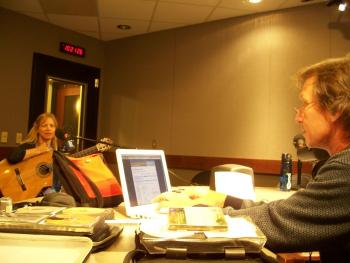 Muriel on WRUR
Muriel then delighted us with her piece "El Noi de la Mare" from Woody Allen's most recent film, Vicky Cristina Barcelona. Her recording of this song can be heard in the background when Vicky walks into Juan's father's garden. "View from Space" was inspired by her 1989 album Heartstrings which accompanied one of the space shuttle missions. The harmonics, wide intervals and deep bass accompaniment all contribute to the spatial feeling of this original song.
For her "Spanish Medley" Muriel switched from harp guitar to classical guitar. This Medley comprised Recuerdos, Concierto de Aranjuez, Leyenda, Rumores de la Caleta and Malageña.. In the Spanish tradition she exploited every note she played and included extensive use of tremolo in her interpretation.
Muriel then changed direction with the bouncy, jazzy Chet Atkins tune "Happy Again." She regaled us with the wonderful story of how she met Chet while taking mandolin lessons from Jethro Burns. It seems Chet and Jethro were married to identical twin sisters. One day while in Nashville, Chet called Muriel telling her that he had a job for her. Of course, she was very excited imagining a performance perhaps at the Grand Ol' Opry! Well, actually, Chet had a rooster with feather mites who required a dusting of medicine. He told Muriel that she was the only person he knew small enough to fit in the chicken coop except maybe Jimmy Dickens! Chet's wife Leona made her a plastic bag with holes for her head and arms. So, that was her first big gig in Nashville, in a chicken coop! Afterwards she did have lunch with Chet and his wife, Leona. By the way, the rooster was also named Leona! Muriel studied not only with Chet, but also with Christopher Parkening. The Rooster story was interestingly followed by an instrumental version of Karen Carpenter's "Close to You" in which the audience eagerly participated.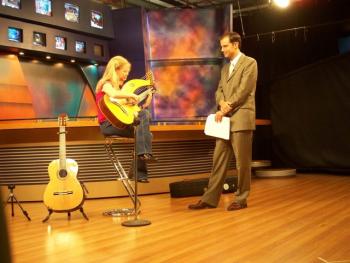 Muriel on Channel 13, Rochester
Muriel then played the romantic and popular "Vincent." She had opened her workshop with this piece generating a lively discussion among the musicians present about interpretation and arranging. In tribute to Les Paul, Muriel played the bouncy classic "Nola," with energy and humor. This is the tune that Muriel played to win the National Finger picking Guitar Championship. Muriel was once on WGN Radio 720 when Les, who was listening on his ham radio, called in to the station to invite her to perform with him! She later joined the legendary guitarist on stage for a jam session at the Iridium jazz club in New York City. Les, who was 91 at the time, described her as "a great player and a great personality. She plays like we all wish to play."
In the spirit of diversity, certainly one of Muriel's hallmarks, she finished the first hour with her own version of a bluegrass band. In this performance she ably imitates the sounds of banjo, mandolin, fiddle and bass. Muriel is the bluegrass band and she has the experience to pull it off! While playing this piece, she injected her own brand of humor by smoothing her hair several times in time with the music without ever losing a beat to illustrate another theme from the workshop, "Maintain the pulse!"
The audience dissolved into intermission in happy anticipation of the set to come!
—R. Taglieri
After the intermission, during which time Muriel was busy signing CDs for folks and mixing with the crowd... and we returned to our seats for a second helping of some really good stuff!
Muriel packed a lot of tunes into her set and a lot of variety within her tunes. She began the second half with a six-string piece that I particularly enjoyed—"Apollo," inspired by a Mississippi tour of NASA, plus the acquisition of a new guitar—Muriel described the piece as "new age-y." I found it to be rhythmic, jazzy, and melodic as well as unique in its use of harmonics, for which she is known.
Muriel co-wrote "Continental Breakfast" with Tommy Emmanuel, and for those of us familiar with his style, you can hear his influence, somewhat softened by Muriel's in this number. The Breakfast is light, jazzy—you could dance to it... It's a good blend of two greats' styles.
"Stem the Rising Tide" is a piece that showed us that Muriel is adept with lyrics and singing as well as six and more strings. I already have confessed to Muriel as I do now to you—I am partial to instrumentals over lyrics any day of the year, especially when the guitarist is a good one; to me the minute there is singing the guitar part fades into the background. This to me seems especially wasteful in the case of as accomplished a guitarist as Muriel Anderson, but she is also an excellent writer and has a lovely voice.
Muriel shared a bit of harp guitar history with us, mentioning the Larson Brothers and, of course, Gibson, who were making these guitars at the turn of the last century. Apparently these were often played in concert with mando orchestras; however there is no written music left for us to read, so no one knows what exactly was played on the original harp guitars. "Why Worry" and "Imagine" came over terrific on harp guitar...
Muriel presented various sides of her musical personality—she has delved into Japanese music including a very koto-like sound on "Sakura/Sukiaki" and has made Grand Ole Opry-style humor a part of her performances... Murielís grandfather played in J. P. Sousa's band—thus inspiring her rendition of his march "The Liberty Bell."
Promising us some "serious music," Muriel did an homage to a Victor Borge-inspired version of Chopinís "Minute Waltz" carefully informing us that if you play it three times your soft-boiled eggs will come out perfect. "Flight of the Bumblebee" flew right up the neck and over the soundhole, where Muriel swatted the offending insect and had us believing she'd killed it on her fretboard! Fretting her instrument in a couple of places with her nose, she convinced me that she could play better with hands tied behind her back and more than a bit impaired than most of us could in a thousand years.
Two popular songs that will long stand the test of time wrapped up the evening: Stevie Wonder's "Superstition" and the Beatles' "Daytripper," a couple of tunes to inspire all us would-be arrangers out there. Muriel was generous in her thanks to the Rochester Guitar Club for bringing her here, and I will gladly take the time to thank her for giving us a couple of special evenings. After the audience rose in standing ovation, Muriel returned with a couple of wonderful encores: "King of the Road" and a bluegrass medley including "Old Joe Clark."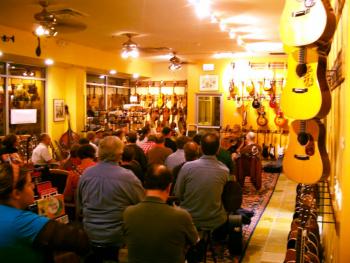 Muriel's workshop at Bernunzio's attracted a bit of a crowd
As a confirmed workshop/seminar junkie, I have to include a note on Murielís workshop at Bernunzio's given the night before the Rochester concert. It ran two hours and was really excellent, packed with information and plenty of hands-on time, given that there were approximately 30-35 folks attending. Muriel gave away two sets of strings (our choice nylon or steel) to each participant, also a handout ("Walkin' the Strings"). She had plenty of tips on harmonics and other special guitar effects, lots of answers to six-string (nylon) and harp guitar (also nylon) questions from the floor... I hope it will not be too long before Muriel Anderson returns to the Rochester area.
—Deb Ross
Share this page:

Facebook

Del.icio.us

StumbleUpon

Digg

Reddit