Fred Vine Plays and Explains the Blues, November 9, 2008
It's Sunday evening and time for a Guitar Club Meeting! Everyone is anxious to hear Fred Vine, blues, jazz, folk singer, songwriter par excellence! And here's Fred, in his casual, friendly, demeanor wearing his best Andy Capp cap like one of the blokes. And sure enough, the first thing he says is, "I think I'll take me cap off and be civilized!" Thanks, Fred for being down to earth, and for being civilized!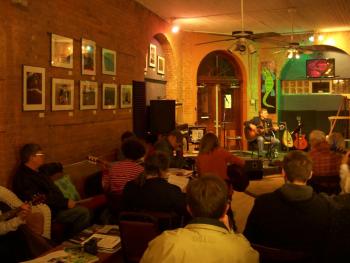 Fred Vine at the RGC
Kinloch Nelson did the introductions, explained what the Guitar Club is all about, discussed a few upcoming events and welcomed suggestions from the audience. Fred talked about how nice it is to be able to make a living doing what he normally does in his living room all the time anyway! He spoke about the various styles of country and blues and the luminaries who created them, about the Beatles and how he relates to them all and how he now prefers finger style playing. He told us about being at the Red Creek in 1970 with his Stradacaster, how he listened to Jimmy Hendrix, and the Allman Brothers and began to notice how all styles of the Blues are related. He listened to Mississippi John Hurt who sounded like a one man band playing bass, rhythm and melody all at the same time, and decided, "This is what I want to do!"
Fred treated us to his rendition of a couple of tunes from the old-timers. The first was Elizabeth Cotton's "Freight Train." The simple elegance of this old gem took me back to the day when Elizabeth Cotton played at the old Genesee Co-op on Monroe Avenue in the 70's. The second piece was a Mississippi John Hurt medley illustrating how rhythmic patterns define style. Country Blues are not about pyrotechnics but basic chords with regular chord shapes. The Blues is basically a vocal genre, with the guitar as accompaniment. He warned us we would have to suffer with his vocals, but Fred actually has a very clear, expressive, easy-to-listen-to style.
Fred had a handout sheet for us with Mississippi John Hurt's "Spike Driver Blues" on one side and Blind Blake's "West Coast Blues" on the other. Examples of open 'G' and open 'D' tunings, commonly used in the blues are included. This handout is available on the Resources page. In "Spike Driver Blues" the right hand has the most active part with alternating bass and melody while the left hand plays only one cord, 'G.' The bass alternates between the sixth and the fourth strings and a pinch with the bass is typical on beats one and three with syncopated notes between beats, i.e., one, two, and, three, four...
The heyday of the Blues was the late 20's through the mid 30's. Most of this music was not written down. The music was usually learned face to face by unschooled players. Before that time, Blues was typically sung by female vocalists like Bessie Smith with jazz bands and was heard in vaudeville and carnivals. Blind Lemon Jefferson was one of the first to be recorded. During the recording craze recording companies wanted to find authentic Blues men and travelled all over the south looking for them. These recordings were extremely popular. Blind Lemon Jefferson went from the streets of Dallas to become a well-to-do musician. Lightening Hopkins tried to play twelve-bar blues with an ensemble, but was as likely to play thirteen bars. He would answer the group, "Lightening change when Lightening want to change!"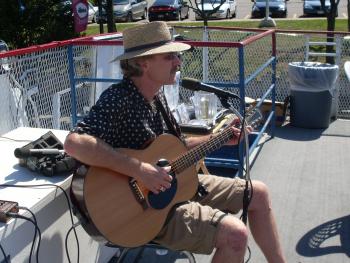 Cruisin' on the Belle
Every player has their own right-hand style. Some players use two fingers, e.g., Merle Travis. Other players use three like Fred. Then, there are those who use all five, such as Chet Atkins. Start with a pinch on the first beat, and play the bass on the fourth string, on the second beat with the thumb. ...and don't forget swingin' eighth notes! Sounds like a train going by! Fred loves to play this way on a boat as it cruises along. Catch Fred some time on the Colonial Belle when it's cruising the Erie Canal on a lazy summer day and you'll hear what he's talkin' about! "It's like riding a bike, it's awkward at first, but it gets easier!" Of course, this is all improvised and is deceptively simple.
Fred usually plays bare fingered, but sometimes with a pick depending on the desired effect. In any case, he keeps the right hand nails to a minimum length to avoid a too metallic sound.
Fred then switched to a National Islander resonator guitar that looked like a cheap t-shirt! (his words, not mine!) This particular instrument was made in June 1990. It has a wooden body with a warmer sound than the typical metal body. He played this guitar in open 'G' and 'D' Spanish tuning typical of Delta players. Fred played the melody with the glass slide mostly on the first string leaving the other strings free for alternating bass patterns. The result was a clear and polished, but down-to-earth,-voice with driving accompaniment. Fred prefers microphones to pickups and glass slides to metal slides. Glass slides are denser and produce less string noise. Vibrato is achieved from the wrist. Inside strings can be played with the slide by muting adjacent strings with the right hand.
Fred plays "Banty Rooster Blues," a Charlie Patton tune. Charlie was one of the first players of Delta Blues with a harder, deeper sound and snaps.We all feel the driving rhythms as Fred stamps his foot in time with the music. Robert Johnson represents the culmination of Delta Blues. He listened to all the previous styles on recordings and embellished them with more excitement in a rolling, tumbling style.
John Lee Hooker's "Ragtime Blues" had a softer, melodic approach and a rhythmic alternating bass line with bounce, the bass line often being anticipated with a thumb roll. This style was much influenced by New Orleans jazz. Blind Blake perfected Ragtime Blues style. Folk music was very much subject to environmental and social conditions. Much of it was influenced by the African tradition, Delta Blues in particular showing influence from West Africa. But the Blues clearly remains an American creation.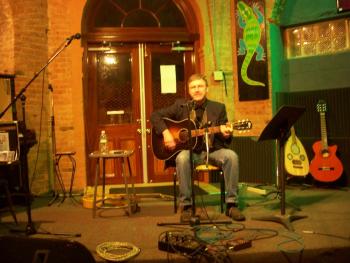 Who's Who of the Blues
Blues players often have colorful names and Fred pays tribute to them with his great original "Who's Who of the Blues." With a sprinkling of scat he sings plaintively about such players as Blind Boy Fuller, Big Bill Broonzey, Little Hat Jones and Frogman Henry, just to name a few. Then he asks how he's supposed to get his Mo Jo going with a name like Fred?! We then heard his arrangement of "Key to the Highway" by Blind Boy Fuller who continued to be popular until his death in the early 1940's. After years of listening to and studying the history of the Blues, Fred went to the King Biscuit Blues festival to experience it for himself. The Blues is as much about appreciating the social milieu where it was created as it is about playing.
Fred played for us "Empire State Express" by Son House who lived on Grieg Street in Corn Hill here in Rochester. In another piece of local Blues legend, the guitar allegedly belonging to Lonnie Johnson is now on sale in Bernunzio's for only $30,000! The comment was added by a member that the headstock did not appear to be original. Fred then treated us to Tuck Andres' arrangement of the Beatles' "Honey Pie," a contemporary song with a country blues lick. Fred's final piece was Blind Boy Fuller's "Step it up and go."
Fred's knowledge of the Blues and its history is breathtaking! And so is his easygoing, hard driving style of interpretation full of expression and humor. You can't get too much of Fred. So, have a look at the Guitar Club's calendar as well as Fred's site for more information on his upcoming performances, house concert series and the November 23 benefit for his sister.
—R. Taglieri
Photos: K. Nelson, R. Taglieri
Share this page:

Facebook

Del.icio.us

StumbleUpon

Digg

Reddit