Ensemble Night, December 14, 2008
Those of us who helped pack The Mez full last night had a wonderful time enjoying the first and, hopefully, not the last Rochester Guitar Club Ensemble Night.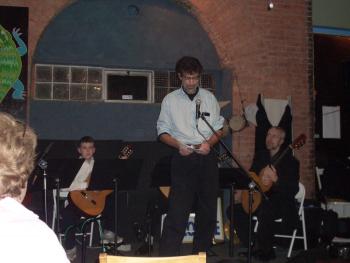 Kinloch introducing ECMS Youth Guitar Ensemble
We began the festivities at 7 p.m. with a lovely Irish Folk Medley (arranged by J. Sparks) by the ECMS Youth Guitar Ensemble, (Aaron Bigeleisen, Oksana Miller, Daniel Nitsch, John O'Leary, Luke Robbins, and David Steinhardt) directed by Petar Kodzas. This is the second time I have gotten to hear these young people; they are well directed and enthusiastic as well as sounding really beautiful. Mr. Kodzas is expert in getting the best from both young and as he has put it "less young" people! There were some lovely harp-like moments in this Medley.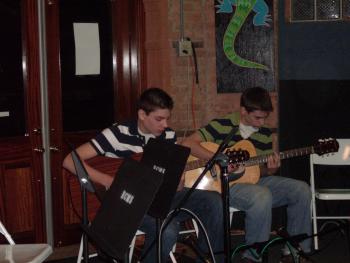 Belfield Brothers from Churchville-Chili High School
We had a very nice reminder that ensemble work is not restricted to the classical realm: The next group to play, was Erik Reinhart's students from Churchville-Chili High School, the Belfield Brothers, who played "Resist" by the rock group Rush. You can tell these two young guys enjoy playing and enjoy playing together, tight rhythm and lead work in the rock tradition.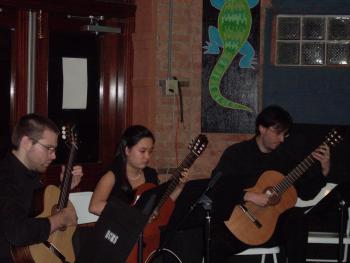 Roberts Wesleyan Guitar Ensemble
Next we were treated to the Roberts Wesleyan Guitar Ensemble, directed by Tim Shannon. This trio (Oliver Smith, Kylie Checksfield, and Richard Aresnault) did a bit of a music history survey with "Awake Sweet Love" by John Dowland from the Renaissance, the Sarabande, Minuet and Bourrée selections of a Suite by the Baroque composer G. F. Handel, and then dropping down to a duo for the last piece, Spanish Dance No. 2 (Oriental) by E. Granados, who bridged the late nineteenth and early twentieth centuries. These young folk exhibited great sensitivity to the instrument while achieving a cohesive ensemble sound.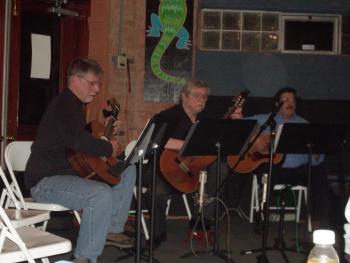 Stringalong
After a brief intermission, we got to enjoy an interesting selection by Stringalong, featuring folks from our own club (Kevin Mathers, Richard Taglieri, and Jeff Chiasson). Stringalong takes material from a wide variety of sources: Tonight they started out with an Irish Medley ("Eleanor Plunkett"/"Shebeg Shemore" by Turlough O'Carolan), then progressed through a Foster/Yeats folksong medley – "I Dream of Jeannie with the Light Brown Hair"/"Down by the Sally Gardens"), a Broadway medley pairing "Memory" from "Cats" with "Beauty & The Beast," "As Time Goes By" (from the movie "Casablanca"), Eric Satie's "Gymnopedie No. 1" and the Australian "Waltzing Matilda." The year-old trio does much of their own arranging. They get an eclectic, well-melded sound on classical and steel-string guitars. On some pieces a fretless nylon-string electric bass added a modern yet mellow sound.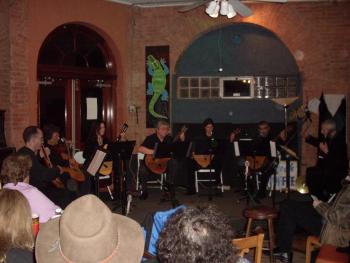 ECMS Adult Guitar Ensemble
Our last ensemble players also hail from ECMS – the Adult Guitar Ensemble, (Jennifer Bennett, Ellen Montondo, Deb Ross, Don Sade, John Treanor, and Richard Taglieri) again expertly directed by Petar Kodzas and featuring two Rochester Guitar Club members. This group also did some musical traveling through time and locale, starting with four movements from the twentieth century French piece by Erik Marchelie "En Terre Cathare with lovely haunting harmonies," then reaching back into Baroque times for "Prelude & Fugue No. 4" by J. S. Bach and finishing with present-day Raul Maldonado's "Deux Thèmes Andins Populaires with its characteristic South American native melodies."
Thanks to Kinloch Nelson and Richard Taglieri for organizing and MC-ing this event, teachers: Erik Reinhart, Tim Shannon and Petar Kodzas; also to Petar Kodzas for lending us music stands, to James Rowe for delicious coffee, quesadillas and other goodies, as well as to all who played, directed, and to an enthusiastic audience!
—Deb Ross
Photos: M. Taglieri
Share this page:

Facebook

Del.icio.us

StumbleUpon

Digg

Reddit