Around the World and Through the Ages: June 6, 2008 Presenters' Concert Notes
Around the World and Through the Ages
Rochester Guitar Club
Presenters' Concert June 6, 2008
at the Harmony House
It was my pleasure, despite stifling heat and humidity, to attend the first concert offered by Rochester Guitar Club last Friday night. This show featured four of our first presenters live at Harmony House in Webster, New York. These included Deborah Fox on Renaissance lute and theorbo, and Mir Ali on custom/hybrid and flamenco guitars, as well as Petar Kodzas on classical guitar and Jerry Preston on percussive guitar. The house was filled for this performance. Kinloch Nelson got things started by thanking Heartland for cosponsoring the event, introducing the Guitar Club and announcing future events. I feel really lucky to have gotten to hear these four excellent performances in one night. [more info]
Deb Ross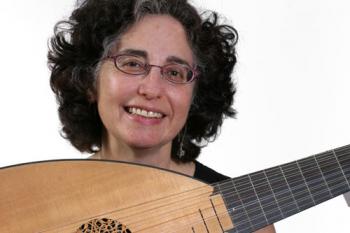 Deborah Fox with lute
Deborah Fox played first. She talked briefly and informatively on lute history, explaining that her small lute is a copy of a 16th century instrument. The much-longer necked and larger theorbo was copied from a type invented at the start of the baroque period, having evolved from smaller lutes to accommodate new musical styles of the time. A theorbo is simply a large bass lute. It had a solo repertoire as well as a major role in accompanying singers and instrumentalists, and was used in opera, church music, chamber music, etc...
Deborah began her repertoire on renaissance lute, with four 16th century Ballad settings: Packington's Pound, Greensleeves, Wilson's Wilde, and Go From My Window. Ms. Fox breathed life into these four gentle, sweet but compelling songs, bringing a sense of 500 years ago into the room. One could nearly see the dancers gently, demurely, but happily moving to the lute's persuasive voice... I think most folk and classical guitarists have tried one or another arrangement of Greensleeves, still a "hit" after all these centuries and it was gratifying hearing this favorite of mine on the lute.
Deborah continued her set with Scottish Folk-Song settings on the impressively long-necked theorbo. These included: pieces by Girolamo Kapsberger: Toccata Arpeggiata, Kapsberger and Canarios, and pieces by Alessandro Piccinini: Toccata, Corrente and Ciaccona. While we could still easily hear dance origins in this set, it was also obvious that music of the time was shifting from a commitment to dance and evolving into a more independent art form. As Ms. Fox explained, there were areas within this music that were open to interpretation and improvisation. I could hear much of the kind of styling that no doubt influenced Bach, as well as a strong resemblance in the theorbo's tone and timbre to that of the harpsichord. A wonderful performance and the first time I'd gotten to hear Deborah as a solo performer!
Deborah Fox is musical director of Pegasus Early Music: http://pegasusearlymusic.org/content/ , also a bit of a bio can be found on: http://josquin.musickshandmade.com/pub/lutenists/view/
Deb Ross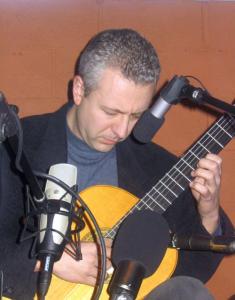 Petar Kodzas from the Eastman School
Petar Kodzas as the second performer in this concert represented a classical approach to folk guitar. He was received with resounding applause as he entered the stage being well known in the community. Petar's first piece was an arrangement by Robert Beaser of the well-known folk tune Shenandoah. This was a delightful new approach to a familiar and very popular song including aural references to moving water ranging from the lush harmonies of the wide river to the trickling of a side stream as heard in Petar's delicate harmonics. Throughout the piece one is constantly reminded of the original melody and the motions of the river.
Petar continued in the realm of folk music with a suite of Five Gypsy Songs (Cinco Danzas Gitanas), a Spanish piece with French influence by Joaquin Turrina (1882-1949) comprising Zambra, Danza de la Seduccion, Canza Ritual, Generalife and Sacro-Monte. The result is an exciting blend of Gypsy flamenco with an impressionistic approach. Like much Gypsy music this piece is characteristically melancholy and agitated all at once. The folk and gypsy theme was heard throughout the evening in the works of the other performers, as well.
Dr. Kodzas finished his program with music closest to his heart, a piece called Wreath, one of his own works comprising four Serbian Folk Songs. Serbia is the present name for the land of Petar's birth. After the concert, I overheard a young man asking him where he could find the sheet music for Wreath. Petar replied that it has never been written down and would probably not be the same piece if it were!
All of Petar's music is rich with a variety of contrasts from fluid arpeggios and gentle thumb strums to bold rasqueado and clearly defined articulation. Petar's performance was followed by intermission when the raffle was drawn much to the delight of the five winners!
Contact: pkodzas@esm.rochester.edu
http://petarkodzas.com/
R. Taglieri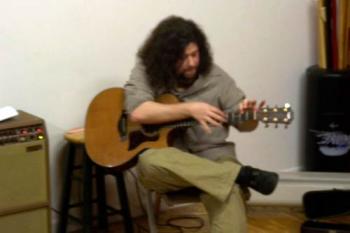 Jerry Preston's percussive style
Jerry Preston opened the second half moving us into the twentieth century somewhere around 1979! Jerry has been strongly influenced by Michael Hedges and treated us to several of his pieces including Ragamuffin, and Rickover's Dream. One of the prominent characteristics of Jerry's playing is his extensive use of unusual percussive effects turning the guitar into a drum as well as a stringed instrument. All parts of the guitar, fretboard, sides and face become targets for both of Jerry's creative hands. Jerry's playing is hard on his instrument and hard on his nails. He quipped that he had never seen so many men with long nails in one place!
We were also treated to some Preston originals including Four Years After, written for his dog with a syncopated gait on on the pet's fourth birthday. In spite of the obvious emphasis on rhythmic effects, there is also an endearing lyrical quality to Jerry's playing. Jerry did not spend much time discussing his technique as he had at an earlier presentation, no doubt due to the time restrictions of the performance. However, if you noticed, you would see him retuning his guitar for virtually every number. It is typical for Jerry to experiment with strings and tunings as well as his other innovative techniques. Jerry is capable of producing a wide variety of effects on his instrument in terms of percussion, rhythm and melody.
Contact: gpresto1@rochester.rr.com
http://www.myspace.com/jerrypreston
R. Taglieri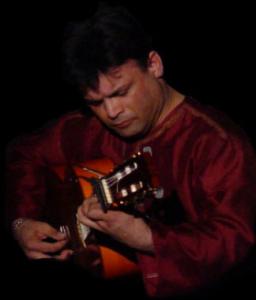 Mir Ali from Buffalo
Mir Ali, in my mind is the very definition of a trouper (actually, all four were, playing so well in the 90+ weather). Originally scheduled as the third performer, Mir's car broke down en route. We had Jerry Preston switch places with him to buy some time, and Mir got here in time to tune up, run through a bit, and deliver a dynamic and exciting performance that denied any problems with weather or transportation. Mir has been described by Acoustic Guitar Magazine as: "an exceptional nylon-string guitarist" and by NPR as "mesmerizing and hypnotic, the Pakistani guitar virtuoso and composer, Mir Ali" ... and they speak for me as well.
Mir tells us that the first piece was titled Raag Kirvani and was an original composition in three parts: Alap, Jhala and Gut. This is an evening raga, (ragas typically relate to themes, not the least of which is time of day) typically having a very soothing and sorrowful sound resembling the harmonic minor scale.
The second piece, Alhambra, is an original composition based in Arabic and Andalucian traditions. Its haunting opening uses the open F# major chord with open E and B strings, immediately defining the singing form of one of flamenco's most notable free rhythmic compositions known as tarantas or tarantos (when sung).
The third piece, Herentia-Latina is a typical rumba flamenca written by Monolo Sanlucar of Andalusia, Spain. This is a more festive and lighter form of flamenco set in a straight ahead 4/4 meter. It also demonstrates several different kinds of flamenco fancy strummings known as "rasqueados" or "rajeos."
The last piece was an original Finger Walk with a slow introduction in the style of the Paraguayan composer Augustin Barrios. Finger Walk is basically a Latin piece with six different independent lines layered on top of each other and resembles a salsa band.
I asked Mir about tunings and other information on his guitars/equipment and he shared with us that the Indian piece was played on a sitar/guitar made by Augustino Lorenz and was given to him as a gift. [Click here for more details].
Mir can be reached at:
Mir Ali
Director, Rantucci International Guitar Festival
Buffalo Guitar Society
PO Box 1034
Williamsville, New York 14231
Phone/Fax: (716) 884-0714
E-mail: mirguitarali@verizon.net
Website: http://www.mir-ali.com
Website: http://www.rantuccifestival.com
Deb Ross
I was struck this evening by the congenial, friendly mood of the audience as they gathered in a structure designed for town meetings. A number of familiar faces were visible including professional and amateur performers as well as many welcome new faces. There was a good feeling all around and soon the air was filled with good sounds as well! All this, in spite of the fact that it was the hottest evening of the year so far, and there was little air conditioning in this large space with fans turned off so as not to disturb the delicate sounds of the guitar!
Another striking feature of the evening was the enthusiastic response to each of the four performers of very different styles reflecting a very mature audience. In spite of the stylistic differences, though, there was a common thread, i.e., folk music from around the world and through the ages. As Deb said earlier, we were very fortunate to hear so many fine performances in the same night!
R. Taglieri
Share this page:

Facebook

Del.icio.us

StumbleUpon

Digg

Reddit