Smith & Adams Concert, March 9, 2009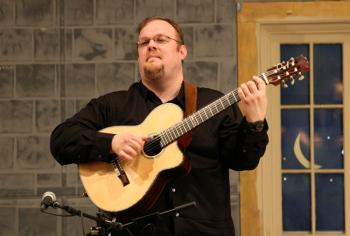 It was a dark and stormy night, complete with lightening, thunder, and torrential rain, but Richard Smith and Julie Adams brought musical sunshine to Harmony House on March 7, 2009 at 8:00 pm. As they warmed up and did sound check, you could easily hear guitarist Smith's strong Nashville "accent" on guitar and the more classical influence of cellist Julie Adams. If I had not heard their CD as a duo, Living Out a Dream, I might have wondered how they were going to blend two such divergent styles together. It became immediately obvious that bringing things together is what these folks do best, also that they practice together nearly every day and really enjoy doing so.
The evening started with "Bye-Bye Blackbird," a version both jazzy and country, complete with raising the key in midsong and segueing into an expanded Beatles medley that included "Day Tripper," "She's Leaving Home," and "Lady Madonna." The cello provided a nice bass/percussive part throughout most of this medley. Smith & Adams do the Beatles extremely well and with enthusiasm, bringing with them influences from Tommy Emmanuel, Chet Atkins and others, as well as their own innovations.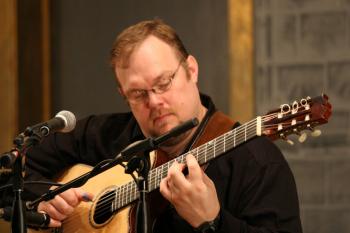 Richard talked a bit about thumbpicking, where the thumb - with thumbpick (or without as I discovered the next day at the workshop) acts as a flatpick. He played a flash and fun series starting out with John D. Loudermilk's "Windy & Warm" and wound up with "Watkins Man"—as Richard explained, the tune "wanders around—that's what he does!" and he did, up and down the neck progressively faster... Most of the more American-country tunes Richard does as solos; he has several excellent albums out with this material.
Variety was the order of the evening: The couple gave us an Irish tune, "The Gentle Maiden" harking back to a St. Patrick's concert where there was a full band with penny whistle, fiddle, etc. The cello opened the melody for this air briefly; then Richard and Julie took turns playing melody which worked out nicely. More followed - a Cole Porter piece, "You Do Something To Me," jazzy, very tight. I had not realized it, but Jerry Reed, the actor was also quite a guitar player and songwriter. Richard played several Reed pieces including "A Thing Called Love," which was a hit for Johnny Cash, also "Bit of Blues," "Driving," "Funky Junk," and "Jerry's Breakdown." Richard threw in some fun, scat percussive stuff and it was really tasty. Someone sitting near me mentioned, "there's lightening all around, and he's playing as fast as the lightening!" I'd love sometime to hear the cello on this, as I think it would go very well and make for a unique sound.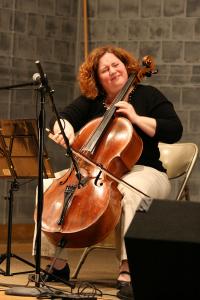 The cello was certainly well represented in most of the program, including Hoagy Carmichael's "Stardust," where it fit perfectly. Many of us wanted to get up and dance! Also, "Cascade," with the cello doing a great bass impersonation. Julie has a powerful and emotional singing voice, most effectively used on a song from Annie Hall, "Seems Like Old Times" - she was hugging her cello while singing this! - and Richard and Julie sang the chorus together. Their versatility shone through the end of the first set including the theme from Masterpiece Theatre, Moret's "Rondeau," among others.
After a brief intermission, Smith & Adams returned, with a change of guitars (Richard had been playing a nylon string and went to steel for part of the second set). He started off with a couple of Merle Travis tunes, including the hilarious "So Round So Firm, So Fully Packed," followed by the clever and spooky "The Chet Shuffle," a smooth and jazzy version of the classic Jerry Jeff Walker, "Mr. Bojangles," "Tiger Rag," and the Beatles' "If I Fell In Love With You." The duo played this in Liverpool this past year. Julie's good clear voice was backed up by lyrical chords and tasteful cello phrases, once again, they do the Beatles right! Richard switched back to the nylon string for Sousa's "Semper Fidelis"... which included the duo leading together! He used a really magical snare drum effect on this guitar - I made a mental note to insist on learning this trick at the workshop. The set wound up with more incredible variety including — from The Sting - "Solace" (Scott Joplin), and "The Ragtime Dance." (another Joplin favorite, but one other Rochester Guitar Club member and I were flinching at how terrific Richard's solo of this was, because we are struggling with our own individual parts for it in the ECMS guitar ensemble)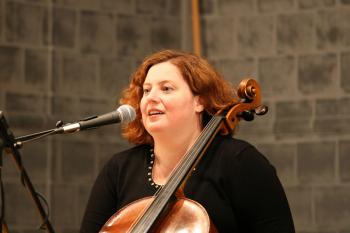 Among the closing numbers were the folk favorite, "Copper Kettle," and "Somewhere Over The Rainbow," starting with a fine cello lead ...and finishing off with a rousing rendition of "Blackberry Blossom." Richard thanked the audience for coming out to see them despite the terrible weather and also thanked Kinloch and Rochester Guitar Club for the invitation to play, but we didn't let them get away all that easily; a standing ovation brought Richard and Julie back out to play "Blue Angel."
—Deb Ross
Photos: Dave Townsend
Some recommended listening and learning from Richard ...
Fingerstyle Guitar  (Chet Atkins)
Me and Chet  (Chet Atkins and Jerry Reed)
Me and Jerry (Chet Atkins and Jerry Reed)
Chet Atkins at Home
If you can get hold of a Japanese release called (Alabama Wild Guitar Man) by Jerry Reed, that has a list of instrumentals on it.
...any of the early Hot Club of France albums with Django and Stephane....
 
Learn:
- Windy and Warm
- Freight Train
as good starter songs....
 
Swingin' 69  (Jerry Reed)
Whispering  (Chet Atkins)
Jerry's Breakdown
 
Learn some Joe Pass solo tunes too for fingerstyle Jazz.
 
Some of the classics are always great to learn too. Any Bach, Barrios and Sor.
Share this page:

Facebook

Del.icio.us

StumbleUpon

Digg

Reddit