A Variety of Styles, May 1, 2009
The Rochester Guitar Club has been around for about two and a half years now. Every two or three months we either invite someone in or choose a member to make a presentation These presentations cover a lot of territory including various technical subjects and a variety of musical styles. You can see reviews of these presentations on our website. In June 2008 we invited four of our prior presenters to perform for us in a concert format. This turned out to be a very successful event featuring guitar music from around the world and across the centuries. So, this year we have done it again, and hopefully, it will become an annual event. We now present to you four of our recent presenters all on stage in one evening!
This concert was held at the Harmony House in Webster as it was last year. Last year's performance happened to be on the warmest night of the year. By contrast, there was a slight chill in the air this time and the turnout was even better this time! Kinloch got the ball rolling with an introduction to the RGC and the performers for the evening, and gave credit to Heartland who helped make these performances possible.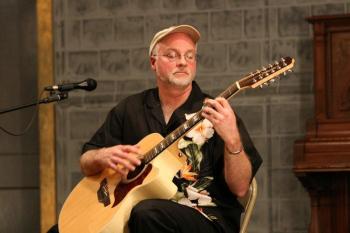 Kimo Wayne Knox
Kimo Knox was our first player introducing the unusual but familiar Hawaiian style of slack key guitar playing. Few of these tunes have the same tuning and the music is upbeat and happy. How can you have the blues when the sun always shines? Kimo is Wayne Knox' adopted Hawaiian name. He is Director of the Optics Department at the University of Rochester. He presented for RGC in January 2008 and with Professor David Headlam in April 2009 He regularly does presentations at the University and operates a local studio with his wife, Ka'iulani. Tonight Kimo played for us in the four main slack-key styles:
*
*
*
*
*
Old Style: "Keala's Mele" by Led Kaapana, tuning: BbFCFAC
Dream Slack Key Style: "No Ka Po" by Keola Beamer, tuning: CFCGCE
Blues Style: Radio Hula, "Hula Blues," tuning: CFCFAC
Modern Style: "Kamalani O Keaukaha," tuning C#F#C#F#A#C#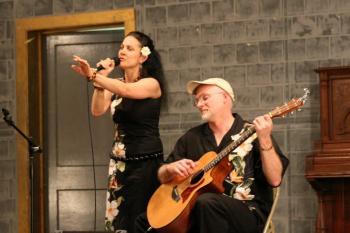 Kimo & Ka'iulani
Kimo provided handouts with more complete details then you see here. If you would like a copy, contact the Club on this website. Kimo's songs were typically lyrical, bright and expressive, played on both steel string and nylon string instruments as well as a twelve string guitar. One piece was inspired by raindrops and another by a legend of a bay woman walking on the water. This number included his wife, Ka'iulani's graceful dancing and singing.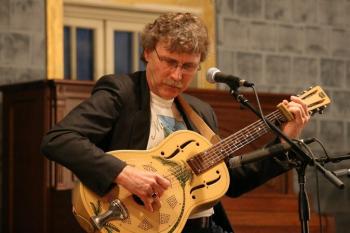 Fred Vine
After the delightful Hawaiian couple left us on the ocean yearning to be free, we were introduced to Fred Vine who performed for the club in November 2008 and also assisted David Headlam in April of this year. As usual Fred had the blues in his own cheerful way. He also informed us that he had nearly worn a Hawaiian shirt that evening! Fred has a special rapport with the audience and took us into his world of blues and ragtime with "Ragtime Ramble." and discussed some of the similarities with Hawaiian music. The guitar is primarily a support for the voice in the blues genre as Fred demonstrated with his renditions of standards like "Mood Indigo" and originals steeped in the blues tradition like "Time to Go Fishin'."
"that feelin' goes stealin'
down to my shoes..."
Like Kimo, Fred uses several instruments. One of these is a Resonator guitar, twenties style before electronics when players were trying to compete with louder instruments. He describes this type of instrument as a cross between a Salisbury Steak Dinner and a banjo! Jazz players never did go for this type of guitar preferring the Gibson arch top. On this guitar we heard the funky and playful Genesee Delta Blues in Fred's food stomping way.
"since my baby said goodbye
I'm so lonesome I could cry..."
My favorite of Fred's originals is his "History of the Blues" where he sings his way through a list of typical colorful names of blues men.
"Big Bill Broonzie
Muddy Waters
Tampa Red
Hound Dog Taylor..."
but laments: "How can I get my MoJo going with a name like...Fred?"
"Blind Boy Fuller
Mississippi John Hirt..."
Fred finished his set with "Bumper Car Boogie" and sent us on break wanting more.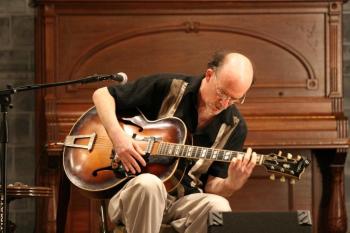 Steve Greene
After two sets of relatively familiar music, Steve Greene who presented for RGC in March 2008 took us in an entirely new and uncharted direction. I am sure that anyone who knows Steve was taken by surprise! Some of the old familiar standards were there like "Moonlight in Vermont" and Gershwin's "I Got Rhythm," but certainly not the style. We are accustomed to a laid back, melodic Steve Greene with lush jazz chords and lyrical melodies. His tunes still contained elements of this style for reference, but quickly ventured off into unknown rhythms, chords and sometimes silence where the spaces became part of the music. This music really does reveal the personal Steve with his wry sense of humor and quick wit.
Steve informed us that he had spent the 80's with electronic music, the 90's with acoustic music and wasn't sure what happened to the next decade, but was now setting out to combine the two. We were treated to unusual and previously unheard reverb effects, chord progressions, organ like sounds and chimes. Steve, at times, would re-tune a string while playing it to create the effect he wanted. Even "When the Saints Go Marching in" did not escape his burst of creativity. I commend Steve for his adventurousness, but would have like to have heard at least one familiar song as an anchor.
—Richard Taglieri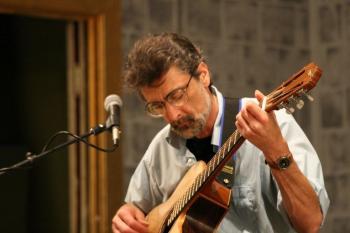 Kinloch Nelson
When Steve finished his set, he noted that due to Kinloch's humble nature he would probably not introduce himself. Steve then took it upon himself to introduce the fourth and final act of the night, Kinloch Nelson. Based upon the closing of Steve's variations of "When The Saints Go Marching In," with wild and unconventional bends of both the manual and digital variety with the aid of a Digitech Whammy Pedal, Kinloch surmised and relayed back to the crowd that he had "just been given artistic license to do anything he wanted." (Kinloch Nelson is a co-founder of the RGC and did a presentation in September 2008)
After a hearty laugh, the crowd was treated to three medleys. The first of these consisted of four songs: "Bach's Bourrée" and "Harlem Nocturne" (a jazz standard) followed by a couple of Stanley Watson tunes; "Waterfall" and "Portrait." (Melody for Don) Kinloch made use of various unconventional techniques that included, but were not limited to; bending the neck to lower the pitch of the strings like a whammy bar, and altering his guitar's tuning three times in mid-song to add both visual and auditory spice to the performance. (but what else would you expect from the guy who wrote the book—well, a book—on alternate tunings) This one ran the gamut starting out with a flowing jazz feel, then moved to a blues shuffle, and on to a contemporary fingerpicking tune—a very happy sounding piece that picked up momentum from start to finish. A very subtle delay and reverb was used to create rich tone that filled the room without being overpowering. A very tasteful use of effects (which is really easy to get carried away with in acoustic music), in my opinion.
He started off his second medley by saying that he noticed on his way to the show that he knew two different songs with the word "boy" in the title. The songs were "Soldier Boy" and "Oh, Danny Boy." They spawned the final two pieces of the evening. The second medley started with an arrangement of "Soldier Boy," a number one hit for The Shirelles in 1962, followed by "Song of India." He told me after the show that the two songs seemed logical to go together because we "probably have more than a few troops over there." The closing piece of music started with an arrangement of "Oh, Danny Boy" and ended with an incredible fiery performance of "Secret Love." His final medley was rife with passion and dynamics, taking the listener on a roller coaster ride from start to finish. The performance ended on such a crescendo that myself and the gentleman next to me both got up out of our seats screaming and whistling, seemingly involuntarily, to start what would eventually become a venue-wide standing ovation. His performance and oneness with his instrument was an experience to behold. Simply incredible!
—Mark Grover
Photos: Dave Townsend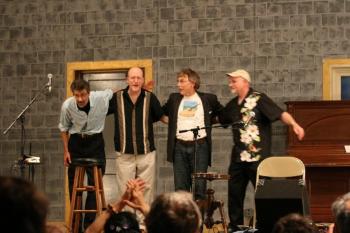 Kinloch, Steve, Fred & Kimo enjoying a well deserved ovation!
Share this page:

Facebook

Del.icio.us

StumbleUpon

Digg

Reddit