RGC Meeting Notes and Play List at the Tango Café, January 3, 2010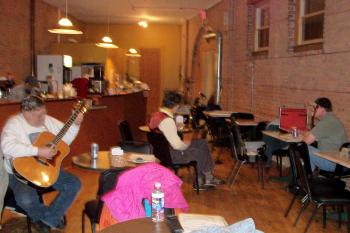 Preparing a Song
The six folks that braved the cold, windy, snowy weather this past Sunday to get to the year's first Rochester Guitar Club meeting were rewarded with a familiar yet new setting, the Tango Café and a re-addition of our Sunday meeting. (not a substitution, we're trying for two meetings a month) Attendance may have been light, but it was enthusiastic, and all agreed it was wonderful having this extra opportunity to get together.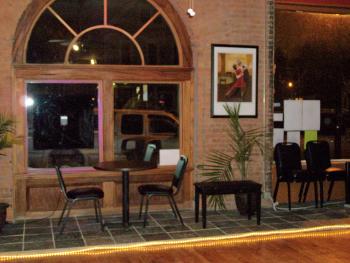 New Decor at Tango Café
Tango Café which operates a beautiful spacious teaching ballroom on the third floor at 389 Gregory Street has expanded into what had previously been The Mez to operate their own coffee house. It's a familiar setting, yet different and still undergoing renovations. The walls are now a light, sunny color that was particularly welcome to the two of us who each travelled over an hour to get to Rochester in eleven-degree weather.
The former stage and the pews have been removed, and there is ample space within a welcoming circle of tables and chairs for dancing, socializing — or setting up mics, music stands, cords, footstools, etc., and playing guitar to an informal audience!
The evening's musical fare leaned toward the classical, with Bach, Lily Afshar, Richard Pick and an anonymous French Baroque composer on the menu. We also had a nice, modern fingerpicking medley. Classical nylon-string guitars outnumbered steel-string acoustic four to one — this time. Who knows who will show up with what next time; so long as it's a guitar, it's welcome! First Sunday of the month, Tango Café, 7:00 pm (immediately following WXXI-FM's broadcast of "Classical Guitar Alive!")
And here's the playlist:

Jim Doyle & Richard Taglieri, "Brook's Edge," Richard Pick, duet
Jim & Richard, "Crab Canon," J.S. Bach, duet. Part 2 is part 1 played backwards, neat!
Richard Taglieri, "Butterfly," Mauro Giuliani, on his beautiful new classical guitar.
Jim Doyle, "Gol-e-Gandome," ("Harvesting Wheat") Lily Afshar, from a traditional Persian lullaby.
Jeremy Carter, "Disney Movie Medley" ("Beauty & the Beast," "American Tale," and the New Years favorite, "Auld Lang Syne").
Deb Ross, Two Baroque dances from France, Anon., the Prelude and the Menuett.
Paul Schickling, "Gavotte II" from "Lute Suite III," J.S. Bach.
There was time for a second round of songs so Richard played Ernesto Lecuona's "Malaguena;"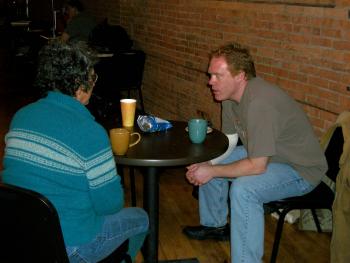 Listening to the Music
Jim Doyle offered an original piece, "Seis Cuerdas," ("Six Strings");
Jerry gave us George Gershwin's "Summertime;"
And Paul played "Sunny" by Bobby Hebb.
A pleasant evening! If you weren't there you missed a good time. Here's hoping you can make the next one!
—Deb Ross
Photos: R. Taglieri
Share this page:

Facebook

Del.icio.us

StumbleUpon

Digg

Reddit