The Second Meeting at the Tango Café, February 7, 2010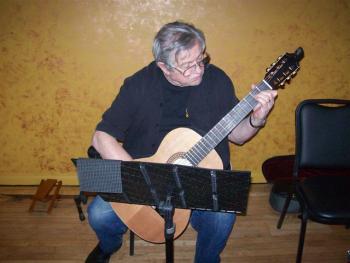 Richard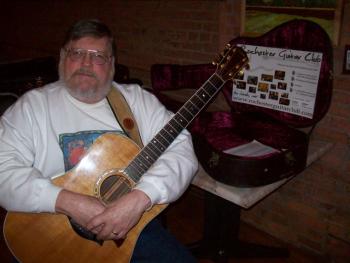 Jerry
Well, the second meeting at the Tango Cafe was enjoyed by four brave souls who decided that a warm night in a coffeehouse playing tunes with guitars and friends was better than being glued to a TV watching the Super-Bowl! Despite the cold air outside, there was still plenty of warm music to be heard on the inside. The optional theme for the evening was based upon Valentine's day.

Richard Taglieri started the evening off by playing a pretty piece called "Getting to Know You" by Rogers and Hammerstein. Richard's new classical guitar is starting to open up a little bit now, and this song was perfectly suited for his guitar. To continue our round robin, we had a short conversation about nails, nail building, and the use of fingerpicks. Jerry was testing a new kind of fingerpick for the evening. We determined that this might be a good discussion at one of our future meetings. Jerry Carter then treated us to "And I Love You So" by Don Mclean, with a post talk about his Taylor guitar and the custom wide neck. I thought it particularly comfortable for me since I am a classical guitarist.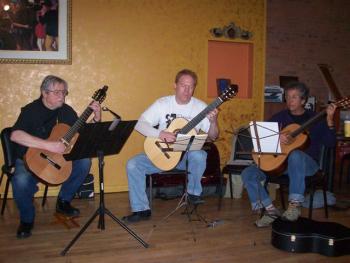 Deb, Jim & Richard
The evening then changed course a bit with the nylon stringed trio consisting of Richard Taglieri, Deb Ross and Jim Doyle playing Martha Verbeck's trio composition "I love You My Dear Valentine" and another piece called "O Little Town of Bethlehem" by Andrew Forrest. Ensembles are a great way to share and enjoy music together!
Jerry Carter then played us a tune called "Wonderful Tonight" by Eric Clapton. I haven't heard this song in a long time so it was nice to reconnect with it. This song left me thinking that it was truly a wonderful night for coffee, good food, friends and guitars!
The trio of Richard, Deb and Jim then played another piece by French composer, Gerard Reyne, called "Springtime." With the cold weather and cold breezes, most of us wished it were springtime! Classical guitars are more effected by cold than steel stringed guitars, so we found ourselves reaching for the tuners more tonight than usual. We then played a piece called "Ein Kindlein in der Wiegen" which Jim casually translated to mean "Kindling in the Wagon." Richard then gave us the real meaning " Baby in a Cradle". I still think "Kindling in the Wagon" sounds better!
We had played some slower pieces tonight, so Jerry Carter picked it up a notch with a tune by Patrick Sky called "She's up for Grabs." It had sort of a bluegrass feel to it, and I could see everyone smiling while Jerry played. I think his new fingerpicks were starting to warm up!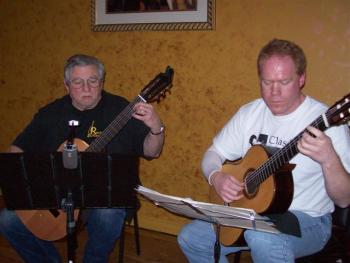 Richard & Jim
Richard and Jim played two duets. "Vaghe belleze et bionde treccie d'oro vedi che per te moro" ( Subtle Beauty and Golden Tresses, Can You See That I am Dying for You?), anonymous and another piece called Bianco fiore (White Flower) by Cesare Negri I think both pieces have a typical Renaissance feel to them, especially in the dropped-D tuning.
Jerry Carter ended the evening with a song by John Denver called "My Sweet Lady." When it comes to playing love songs on Valentine's day for that special someone in your life, playing John Denver is a sure way to get the fire started. On this cold night, staying near a warm fire is a good thing! Despite the low turnout for the evening, it was a good night for guitar if you weren't interested in watching football.
I would like to put in a special plug for the owner of Tango Cafe who makes a really good bowl of Beef Barley Soup. Probably the best bowl of Beef Barley soup I've had in a long time. It's highly recommended, should you decide to come and play guitar with us in the upcoming months at The Tango Cafe.
Article and photos by Jim Doyle
Share this page:

Facebook

Del.icio.us

StumbleUpon

Digg

Reddit