RGC Meeting and Play List at Abilene's, February 15, 2010
After the recent drop in turnout at meetings both at Abilene's and Tango Café, it was exciting to see a rally in attendance this Monday evening, February 15. Kinloch Nelson opened the meeting with details about the now available membership cards and T-shirts.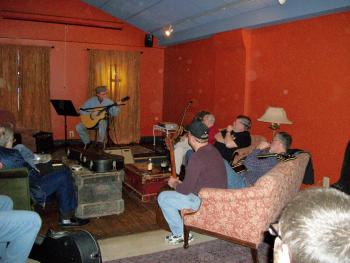 Playing a solo for friends at Abilene's
For the last three years that RGC has been in existence there has been no formal membership status. At the most recent Core Group meeting it was decided to initiate a formal membership status for $15 per year including a one-time offer of a free T-shirt, a value of $10. Benefits of membership will include identification as an RGC member validated by a membership card, T-shirt, free attendance at all meetings, presentations and a discount for RGC sponsored concerts. The possibility of other benefits in the future is being explored.
T-Shirts may be purchased separately for $10 each. Sizes S, M, L, XL and 2XL are available and every shirt is 100% cotton. T-Shirts and membership are available at regular meetings, presentations and concerts. Nonmembers are still welcome to attend meetings for a voluntary contribution with essentially no change in status. Sales of both shirts and memberships have been brisk.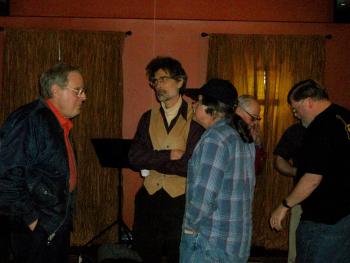 Exchange of ideas among guitar players
The evening featured Kinloch's account of his own journey into the guitar world. He began at the age of five when he received a guitar as a gift from his parents. He would place his ear on the body of the instrument while plucking the strings, fascinated by the quality of the sounds produced. This interest foreshadowed his present concept of music making. Every piece of music is a story to be told, and every note is a work of art in itself shaped by the interaction of the fingers and the strings. This process works subjectively under the guidance of the ear allowing the music to blossom. Kinloch's favorite instrument is a hybrid classical fashioned by Bernie Lehmann and strung with light (strings 5, 6) and extra light (strings 1-4) gauge metal strings. This is what gives him the tonal colors he is looking for. He then delighted us with an exquisite example of "A Rose in Spanish Harlem." with his guitar tuned to BbFAGBE.
In addition to Kinloch's exposition, we enjoyed a variety of fine music from our members including Bernie Lehmann, recently featured in Acoustic Guitar, Chuck Dye's seven-string guitar emulating Coleman Hawkin's beautiful tenor sax rendition of "Body & Soul," and Larry Johnson who studied with Andrés Segovia.
After the Round Robin and membership sale, everyone had a chance to mingle and exchange ideas.
Here is a complete play list:
John Williamson, "My Romance" (Rodgers & Hart) tastefully played on electric guitar
Richard Taglieri, "Getting to Know You" (Rodgers & Hammerstein)
Bernie Lehmann, "Julia" (Lennon, McCartney)
Ted Peck, "Fly Me to the Moon" (Bart Howard)
Richard Rothbun, "Promises Kept" (original)
Chuck Dye, "Body & Soul"" (Johnny Green)
Jeremy Carter, "Michelle" (Sir Paul McCartney)
Lawrence Johnson, "Träumerei" (Fernando Sor) arr. Tárrega
Kinloch Nelson, "A Rose in Spanish Harlem" (Phil Spector)
Von Martt, "Improv for Valentine" (original)
Ross Bracco, "Ain't Misbehaving'" (Fats Waller)
Paul diMiero, "The Bricklayer's Beautiful Daughter" (Will Ackerman)
Mark Grover, "Oft Geht Bled" (Thomas Leeb)
Mike Reynolds, "Something" (George Harrison)
—Richard Taglieri, Article and Photos
Share this page:

Facebook

Del.icio.us

StumbleUpon

Digg

Reddit