RGC Meeting and Play List at Tango Café, May 2, 2010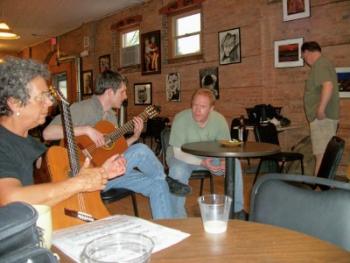 Getting Ready to Play at the Tango Café!
♪ Last night we had seven folks in all (six playing) get together to play in the air-conditioned comfort of the Tango Café!
♪ It was gratifying to see our Sunday gathering grow and offer yet more variety as far as type of guitar, style of music, etc. is concerned. The Tango Café, meanwhile is making their establishment into a bright star in the constellation of Rochester night life. They are busily planning events of interest to guitar players and all other music lovers. A variety of interesting beers and wines is now on the menu, as well as some tasty looking treats.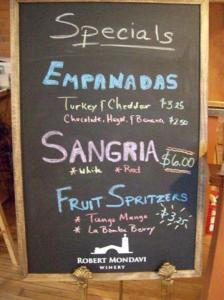 Tasty Tango Treats!
♪ Last night I finally took the time to brave those two flights of stairs up to the ballroom-if you have not yet seen it, be sure and get Ruben or Karen to take you up there. I was awed by the size, beauty, and welcoming atmosphere of this room which has been a working dance floor continuously since the 1880's.
So here's the play list, already!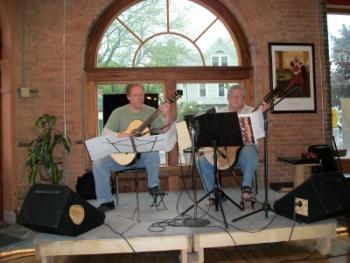 Jim & Richard
♪ We started the evening's music with Jim Doyle and Richard Taglieri (classical guitars) teaming up to play Richard Pick's Bad Tempered Grind Organ, and it was a hoot! Ross Bracco (steel-strung guitar) followed up with Chattanooga Choo-Choo by Mack Gordon and Harry Warren.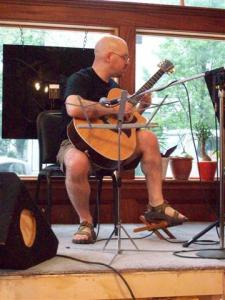 Ross Bracco
♪ Back to the classical realm with Richard playing a traditional Mazurca in A Major arranged by Luigi Schinina. Deb Ross (classical guitar) played her arrangement of a John Fahey blues, Joe Kirby Blues. (C/Am) Jim Doyle played Un Dia de Novembre by Leo Brouwer, an unusually melodic piece for Brouwer from a film of the same name. Ryan Bailey (classical guitar) gave us two pieces, Scarborough Faire and an unfinished, but promising original. Jerry Carter (steel-strung guitar) played Dream a Little Dream of Me by Fabian Andre & Wilbur Schwandt. Richard returned with a Tarantella in D major, another Schinina arrangement.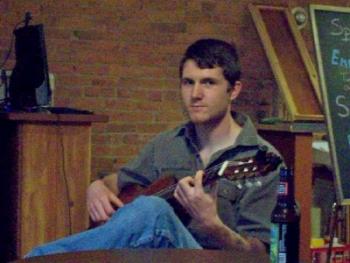 Ryan Bailey
♪ Ross proved to us that classical goes well on steel strings with a fine jazzy arrangement of Debussy's Claire de Lune. Deb then played Andrew Yorkâs In Sorrow's Wake with enticing chord progressions. Ryan regaled us with Mistress Winters Jump by John Dowland, plus another unnamed original. Jerry gave us a dramatic mood change with Willie Nelson's On the Road Again. And yet another mood switch with Richard doing Serenade in the Night, (original by C.A. Bixio & B. Cherubini, adaptation by Jimmy Kennedy) followed by Jim and Richard playing Franz Josef Haydn's Prest and Brook's Edge by Richard Pick.
♪ I am looking forward to our next playing evening, hopefully to hear progress on all our developing originals, arrangements and pieces from those of us who are learning or relearning to read musical notation! There was some fine music here tonight, and from the sound of things even finer listening up ahead!
♪ Don't know about you, but I'm really looking forward also to Matthew Ardizzone's presentation on Total Recall at Abilene on May 17; I'm especially hoping to learn something that will speed up my ability to memorize from sheet music! [I share your anticipation!—Richard]
See you then,
—Deb Ross
Photos - Jim Doyle & R. Taglieri
Share this page:

Facebook

Del.icio.us

StumbleUpon

Digg

Reddit