RGC Meeting and Play List at Tango Café, June 6, 2010
RGC Meeting Sunday 06/07/10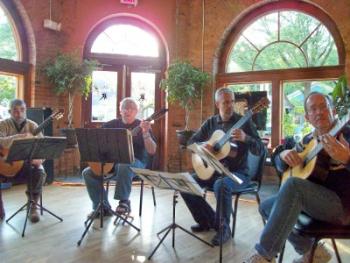 ECMS Ensemble
Last night, nine of us Rochester Guitar Club members, plus at least one guest, got together to enjoy a couple of hours of live guitar music and chat at Tango Café. The day's gray, gloomy weather broke just in time to allow some long rays of summer-evening sun to warm our spirits.
This evening featured a pleasant mix of classical and fingerstyle material. (and more variety is always welcome!) We started with the scheduled recital of Eastman Community Music School's (ECMS) adult guitar ensemble; tonight's lineup was Petar Kodzas, instructor, Don Sade, Richard Taglieri, and John Treanor.
And here's the play list:
The ECMS adult guitar ensemble opened the evening for us with five lovely pieces: "Merry Melancholie" by Gerard Reyne, a Pavane by Luis Milan, another Pavane by Gaspar Sanz, Maurice Ravel's "Pavane pour une Enfante Defunte," and "Traumerei" from the set of thirteen pieces, "Auf Kinderszenen" by Robert Schumann. (Reverie from Children's Scenes)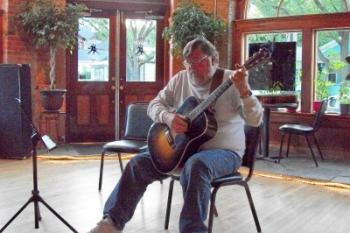 Jerry Carter
Jerry Carter did the first solo after ensemble, "Torna A Surriento," by Ernest De Curtis — which was a lot of fun because he wandered from table to table (sorry you got no tips, Jerry!) as he'd seen this performed live some years before. John Treanor from ensemble stayed a while and played for us "El Marabino" by Antonio Lauro. Bill Kenny played "Beaumont Rag" by Doc Watson. Jeff Love gave us a nice original interpretation of Turlough O'Carolan's "Si Beag Si Mor." Richard Taglieri played a traditional, "Mazurka in D Major" arranged by Luigi Schinina. Deb Ross played "Double" by J. S. Bach from BWV 1002, "Partita for Solo Violin." Jerry finished the evening for us with Don McClean's "American Pie."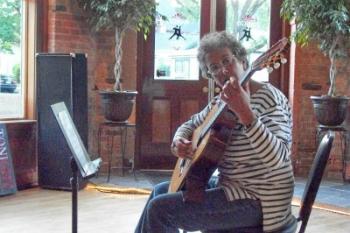 Deb Ross
A pleasant evening! If RGC missed landing on your calendar, you missed a fun and relaxed evening — and we missed you! Here's hoping you can make it next time, bringing an acoustic guitar of either the steel or nylon string persuasion... Next meeting is Monday, June 21, 2010, at Abilene. The next Tango meeting is Sunday, August 1, 2010. Hope to hear you there...
Ciao for now!
—Deb Ross
Photos: D. Ross & R. Taglieri
Share this page:

Facebook

Del.icio.us

StumbleUpon

Digg

Reddit