RGC Play List at Abilene's, October 18, 2010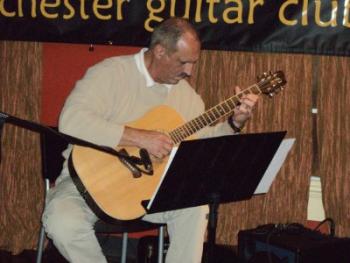 Paul DiMiero
Eclectic! Energetic! Encouraging! That's a typical round robin session at the Rochester Guitar Club. And, so it was this Monday night at Abilene's. Here's the play list. In spite of the second round, we finished a bit early and indulged in some group jamming with tunes like "Freight Train" and several Beatles numbers among others.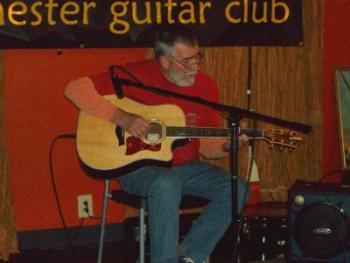 Von Martt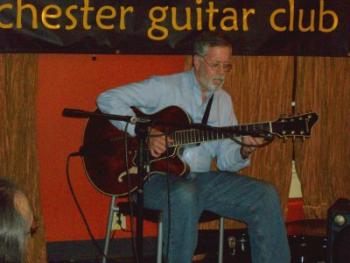 Chuck Dye
Richard Taglieri, "I Saw Three Ships" (traditional, arr. Alan Alexander)
♪ In preparation for the Christmas recording session!
Paul DiMiero, "Amazing Grace" (John Newton)
♪ In DADGAD tuning
Mark Grover, "Slow Circle II" (Alex deGrassi)
♪ In finger picking style, a departure for Mark
♪
♪
♪
♪
Von Martt, "For Tieth" (original)
♪ In celebration of his 40th composition!
Jerry Marshall, "Very Early" (Bill Evans)
♪ A new jazz tune for Jerry
Jeremy Carter, "Guabi Guabi" (George Sibanda)
♪ The entire history of South Africa in one song!
David Langmann, "Blind Blake's Breakdown" (Blind Blake)
♪ Some authentic blues!
Bernie Lehmann, "Autumn Leaves" (Joseph Kosma)
♪ Written for clarinet—just ask Bernie!
♪
♪
♪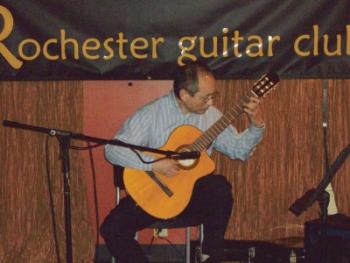 Pi Sheng Chang
Chuck Dye, "Down the Line" (Jim Hall)
♪ Jazz without the seventh string
Jay West, "Brouwer No. 6" (Leo Brouwer)
♪ Our guest from the Eastman School
Pi Sheng Chang, "Bourrée" (Bach)
♪ Patient and steadfast
Round II
Mark, "No Goodbyes" (Don Ross)
♪ Two steps down, C-C
Bernie, "Stranger on the Shore" (Bilk Acker)
♪ As performed by the Ventures
Jeremy, "Wonderful Tonight" (Eric Clapton)
Von, "I Still Can't Say Goodbye"
(Blimm/Moore)
♪ Performed by Chet Atkins in memory of his Dad
♪
♪
Play list & photos: R. Taglieri
Share this page:

Facebook

Del.icio.us

StumbleUpon

Digg

Reddit