Peter Fletcher Concert, First Presbyterian Church, 21 Church Street, Lockport, NY, Friday March 25, 2011
Having been reminded by the front page of the Rochester Guitar Club website, tonight I ventured into the cold March air to attend a classical guitar concert with Peter Fletcher, from New York City, in Lockport NY. Peter, a 1995 Graduate of the Eastman School of Music played two sets of music.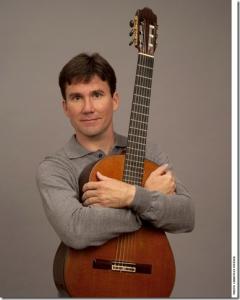 The first set, all played on a spruce-top guitar made by Darren Hippner, featured works of Bach, Albeniz, Dowland and Ponce. Peter opened the concert with three works of John Dowland; Galliard, Melancholy Galliard, and The Queen Elizabeth her Galliard. Peter also played Bach's "Jesu, Joy of Man's Desiring," which is a popular piece for Classical Guitar. Although I have been accustomed to hearing the David Russell version of this piece in other concerts, Peter mesmerized the audience by playing a transcription by Rick Foster. Something I look for when attending guitar concerts, are pieces of music that I have never heard before. One such work is Paduna (from Suite No. 4) by Esaias Reusner. I later found out when talking to Peter at the reception that this piece is one of his favorites to play. Peter ended the first set by playing Sevilla, from Suite Espanola, Op 47, by Isaac Albeniz.
After a brief intermission, Peter came out on stage carrying yet another guitar made by Darren Hippner. This model had a cedar top. Peter explained that the first guitar was more suited for the sounds of Baroque in the first set, and the Cedar guitar with its warmer, darker sound would be more suited for the contemporary pieces featured in the second set from the works of Carlo Domeniconi, Ravel, Greig. Koshkin, and Villa-Lobos. Peter played one of my favorite pieces, Gavotta-Choro by Villa-Lobos. The audience of well over 100 people sat dead quiet listening to Koyunbaba, by Domeniconi which requires the guitar to be tuned to a C# minor chord.
I have known Peter Fletcher for years from his well attended concerts at the Albion Swan Library, in Albion NY. Seeing him play tonight in Lockport, NY and speaking with him at the reception afterwards, it was good seeing an old friend whom I haven't seen in a long time. Having attended Peter's concerts in the past, this concert and the cathedral settings of this church provided by far the best concert I have see him play.
My listening experience this time, in short, convinced me that I was sitting in the presence of a true master of guitar who was well focused and very comfortable on stage. If you ever get a chance to see him play, know that it will be well worth your time to attend. His website is www.peterfletcher.com.
—Jim Doyle
Share this page:

Facebook

Del.icio.us

StumbleUpon

Digg

Reddit