Western New York Guitar Show at Buffalo, April 3, 2011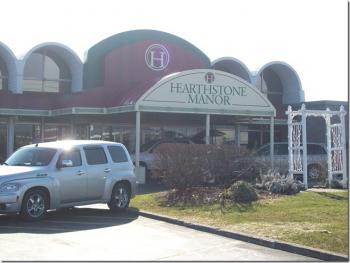 Today, I arose early with the sun at my back and took a ride into Buffalo, NY to attend the Western New York Guitar Show. I was pleased to see it back at at the Hearthstone Manor. As I arrived at the establishment, at 8 a.m., I was pleasantly surprised at the number of vendors at this show, and how many people were scurrying in to get the earliest pick of items.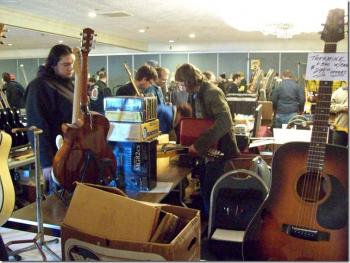 Within an hour, the place was filled with the hustle and bustle of deals, guitars wailing away, and the meeting of new and old friends, re-enforcing my belief that there is a thriving interest among musicians in this area to want to rise and shine before the sun comes up and see what musical treasures they may find.
I wore my RGC t-shirt to the event and had several people ask me where our booth was located. A few others stopped me to say they were coming to the Harvey Reid workshop at Bernunzio's later in the day. [RGC did not participate this year due to the previous Reid engagement. We hope to be back next year! -ED] It was good to see people going to both events, despite being in two cities a hundred miles apart! Others stopped me to inquire about the Rochester Guitar Club. I plugged the website to those who asked. I talked briefly with Charles Laudico, the manager, on the possibility of a Rochester Musicians' Flea Market.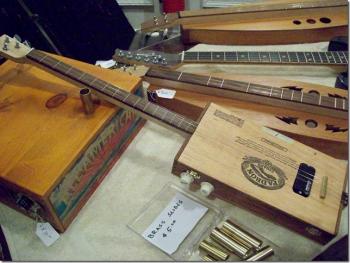 I would say, in short, that if you are looking for new and used instruments, or want to attend something to get you out of the house for a day, consider coming to the Western New York Guitar Show. You just might find that old guitar or amp you wished you didnít sell thirty years ago, or meet an old friend or come out with just the thing youíve been looking for. Each one of these shows is an experience and worth attending.

Here are a few interesting Buffalo-area links from business cards I acquired in conversation:

Wellsville Creative Arts Center:
http://www.wellsvillecreativeartscenter.com/events/events.cfm
Buffalo Friends of Music:
AL-E-OOPS Restaurant with Open Mike at an old Pony Express Station
Peace—Jim Doyle
Share this page:

Facebook

Del.icio.us

StumbleUpon

Digg

Reddit