The Last Tango at Tango Café, May 1, 2011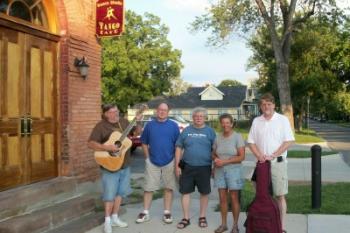 On a typically gorgeous May first evening, as the sun set in the heart of beautiful Rochester, New York, the Last Tango took place at Tango Cafe as five ardent RGC members were received for the final time in the hospitable manner to which they had long become accustomed. Their gracious, seasoned hostess and server, Julie, plied them with heartwarming sustenance and libation whilst they engaged in witty conversation as they were often wont to do.
Once they had satiated their appetites, and
encouraged by the intimate setting of the cafe, they set about plucking steel and nylon. A more pleasant pack of plecturists, you could hardly ponder! As they explored possible pieces to play, the pleasantries were plentiful and tuneful sounds were interspersed with philosophic opinions of music and life.
Jerry Carter opened the session with a fine rendition of "Desperado," (Eagles) a desperate song, if ever there was one! Paul Schickling probed the strings for Bach's "Prelude in C" soon discovering that is was more accessible on nylon than steel. As we scurried back and forth through the centuries on our six-string time machines, Dennis Nichols entertained us with "Funky Susan," a product of Carter Red, cousin to Kinloch Nelson, I am told. Back to present times, but in a classic style, Richard Taglieri played "Maria Sol" by Allan Alexander.
Now, it was Kinloch Nelson's turn to extract salubrious sounds from his instrument with "Pretty Blues" by Danny Gatton. Kinloch and Paul revisited the "Prelude" on nylon and steel, this time with Kinloch capo-ing at the fourth fret. Reaching a creative frenzy they pursued their perilous plucking with some classic Led Zeppelin, to wit, "Babe, I'm Gonna Leave You" our final dedication to Tango Café. Not to be content with earthly time travels, they plunged ahead with "Stairway to Heaven," now joined by Jerry.

Ultimately, Jerry brought us back to earth with Chet Atkin's "Bye, Bye, Blackbird." (well, mostly) This prompted Paul to ponder the mysteries of the twelve-bar blues, this inquiry inducing a final frenzy of flying fingers. Richard then resorted to Francesco Corbetta's "Preludio" to calm our precision performers in seventeenth century style. And so came to a conclusion the excitement of the evening which we wrapped up, much as our sandwiches had been earlier. Tango Café will surely be sorely missed!
—R. Taglieri
Babe, baby, baby, I'm Gonna Leave You.
I said baby, you know I'm gonna leave you.
I'll leave you when the summertime,
Leave you when the summer comes a-rollin'
Leave you when the summer comes along.
—Led Zeppelin
Share this page:

Facebook

Del.icio.us

StumbleUpon

Digg

Reddit