First meeting at Towpath Café, August 15, 2011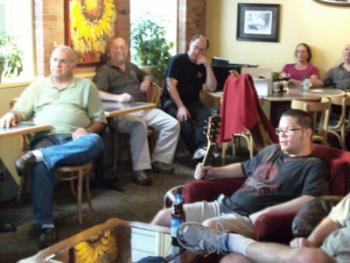 Towpath Café
A lively, enthusiastic group of RGC guitarists assembled at Towpath Café Monday to share their love of guitar music. After a discussion of upcoming events and other Club matters, we enjoyed two rounds of solo playing.
This was our first time at Towpath prompting a spirited discussion at the end of the evening of the pros and cons of Towpath compared to Abilene's and other venues. It certainly is a congenial and comfortable setting with good food and drink and exposure to the community. There is a slight problem, however, with ambient noise requiring light amplification to which some players are not accustomed.
After hearing valid arguments on both sides, it was suggested that we consider rotating venues possibly even finding other places to meet as well. The Core group will take up the matter this Saturday at the regular Core meeting. Anyone who wishes to attend or to add their input, please contact us through the Contact button on this website. (several comments have already been received)
Here is the play list: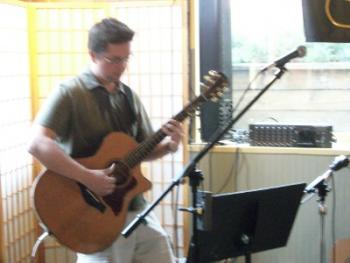 David Gervasi
Round 1:
Richard Taglieri, "Fandanguillo" (traditional Spanish)
David Gervasi, "Sysiphys" (original)
♫ welcome to RGC!
Mark Grover, "Those Who Wait" (Tommy Emmanuel)
Bernie Lehman, Medley: "Morning Has Broken/Longer Boats/Moon Shadow/Plus!" (Cat Stevens)
John Treanor, "Ye Banks and Braes" (F. Sor)
Maynard Penlon, "Large Bug Under Glass" (original)
♫ a work in progress
Von Martt, "Skippy Melody" (Steve Boyer)
Jeremy Carter, "Sunshine on my Shoulders" (John Denver)
Paul Schickling, "Over the Rainbow/Sunny/Pavane" (Arlen/Hebb/Milan)
John Williamson, "Bluesette" (Toots Thielemans)
.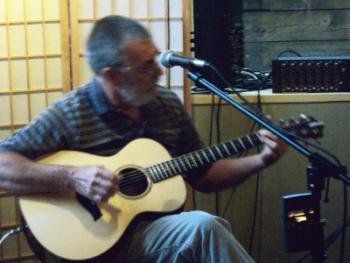 Von Martt
Round 2:
David, "untitled" (original)
Mark, "Ladzekpo" ((Thomas Leeb)
Bernie, "Lucky Old Sun" (Beasley Smith)
Maynard, "Large Bug Under Glass" (original)
♫ more progress!
Von, "Seneca Rocks" (original)
Jeremy, Medley: "You Fill up my Senses/Why Do we Always Fight When I Have to Go" (John Denver)
Richard, "On Top of Old Smokey/Ridin' Ol' Dan" (traditional/Richard Pick)
Play List & Photos~R. Taglieri
Share this page:

Facebook

Del.icio.us

StumbleUpon

Digg

Reddit