Electronics for Acoustic Guitar: A Presentation on Acoustic Products by Fishman District Sales Representative Bob Valyou
The Rochester Guitar Club was treated to an excellent presentation on means, methods and philosophies of amplifying acoustic guitars to capture the natural sound of the instrument. Acoustic guitar players plugging into guitar amplifiers and a PA system have for years pondered the problem of how to get a studio quality sound–=the sound heard by high end microphones in front of the guitar==without loss, additional coloration or feedback problems. It often seems like the search for the Holy Grail! Bob Valyou clued us in on Fishman's product line designed to accomplish this task.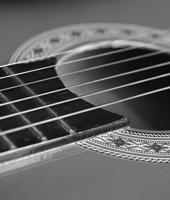 But first we've got to know Bob. Bob flew into Rochester for our presentation from his office in Andover Massachusetts and brought a lot of hardware to show us. Bob's first job after school was in a music shop where he became familiar with the musical instrument business and began playing. He then worked twenty years in the real estate and antique auction business and virtually stopped playing his guitar. For the next seven years, Bob ran Acoustic Outfitters in New Hampshire, an acoustic music shop, selling, purchasing and "demoing" guitars and installing pickups–finally, and gladly, getting back to playing and working with what he loved. He began perusing fingerstyle guitar and had his first Fishman (Matrix) pickup installed so he could plug in when playing out. This first contact with Fishman led to his now very satisfying relationship working for Fishman.

Bob's customer list includes mostly high end or specialty acoustic shops, small guitar builders and repair shops that cater to a more informed and demanding customer base that knows more of what it wants rather than the high volume sellers or small general purpose music stores with less specific focus on high end acoustic. The fact that Bob is actually a fingerstyle player lends a great deal of credence to his presentation. One audience member stated it well by saying he is an "Ambassador of the Craft." This is an appropriate title.
Bob spoke first about the traditional Fishman Matrix transducer and custom internal preamp that Larry Fishman invented and patented. These have been around a long time. It is mounted under the saddle and is comprised of pressure activated piezo crystals that do an excellent job of capturing string vibrations. Due the nature of piezo however it needs the internal equalizer to balance the output across the spectrum.
Bob brought with him a guitar with no back on it to demonstrate the parts mounting and wiring harness. He also brought his own instrument which has the Fishman Infinity system installed. This features the Matrix transducer and has a small control board with volume and tone controls plus a bass cut switch. This board mounts under the upper edge of the sound hole, not visible, but readily available. The tone control is not a conventional bass/treble control but rather it is a midrange scoop. The bass cut can be utilized in a group to help the guitar cut through bass and drums or not cut through when solo playing to give a much larger low end while playing unaccompanied.
Another solution he detailed is the Fishman Ellipse pickup system which has the Matrix plus an internal microphone on a goose-neck and a blender with volume, blend and phase controls–also mounted under the sound hole. This allows for a bit fuller sound and works well in a solo situation but has the difficulty that an internal microphone in a tonally resonant box is subject to feedback and so is not ideal for all situations but does provide another path to try to get the sound you are looking for.
The premier and most innovative solution in the Fishman line is the Fishman Aura System. This again is based upon the Fishman Matrix under saddle pickup. It features an external equalizer which has sixteen switchable imaging profiles. The basic philosophy is to create support equalization that supplies the necessary boosts and cuts across the guitar's audible spectrum to make up the difference between what high quality studio microphones placed in front of the guitar would capture and what the under saddle pickup and its preamp puts out. This difference signal (image) is then combined with the guitar peizo signal to create a composite that is as "true-to-life microphone sound" as possible. If you have one of the currently 1200-1400 available guitar models imaged you can use the image profiles in the Fishman image gallery. If you want closer reproduction you can send your instrument to Fishman, and for two hundred dollars they will image your guitar and provide you with a set of images that represent different microphone combination profiles for your specific instrument. You can use these multiple images to attain the sound you want even though you play in different venues.
You can put an assortment of other guitar profiles in the additional switch locations to apply images from other guitars to your instrument and experiment with different sound profiles. For example, see what happens when you apply a Gibson J-50 profile to your Martin D-28 or apply an image from an OM, concert model or jumbo to your dreadnaught. The Aura is not recommended for use with soundboard transducer systems or the Taylor Expression System as experience has found these do not work as well together. It works best with piezo under saddle systems–logical since this is the system used for the image library and in the baseline design. Bob spent quite some time applying different settings to his guitar to demonstrate the range of sound fields possible by applying different profiles and answering the many questions from our members.
There are two levels of the Aura. The Aura 16 holds just sixteen profiles with volume, blend and phase controls. The Aura Spectrum D1 Allows you to select guitar type, (Dreadnaught, OM, Concert, Jumbo, Nylon, Twelve-String, Bluegrass and User) and then each type has sixteen profiles based upon Studio, top wood, back & sides woods and studio microphone type–128 preloaded images. This also has volume, blend, three-band EQ compression and feedback controls plus integrated tuner—clearly aimed at the professional.
Bob also brought with him several Fishman amplifiers. The SA220 Solo Amp is a 220 Watt two-channel tower unit that is very portable and has excellent sound for acoustic guitar and voice. He also had a Loudbox Artist (120 Watt) and Loudbox Mini (60 Watt) which are quite compact in size for their respective outputs and are full featured with EQ and effects. Kinloch Nelson played a tune called "Kitten" on Bob's guitar with the SA220 Solo Amp and afterward tweaked the Aura controls and was able to overcome a muddy bass sound that was assumed to be from room acoustics. Bob played Stephen Stills' "Treetop Flyer" for us to demonstrate the sound quality of his pickup and the Loudbox Mini Amp. Several other RGC members also tried out the system much to our enjoyment.
Bob fielded numerous additional questions after the presentation—a very informative and interesting session. Our thanks to Bob Valyou and Fishman for coming to Rochester for our meeting.
~Jeremy Carter
Share this page:

Facebook

Del.icio.us

StumbleUpon

Digg

Reddit