RGC Celebrating it's Fifth Anniversary!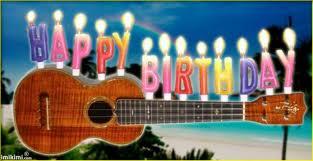 RGC 2006 - 2011!
♪ Our first meetings were held at Bernie Lehmann's guitar studio beginning in October 2006 and continuing into early 2007. Bernie, who has been a member ever since was also in attendance at our celebration last night at Towpath Café.
It was good to see some of the original members as well as some new faces. We took turns playing Christmas songs and other melodies in our usual Round Robin fashion. Some of the songs played had been recorded by cable TV for the Music Show in 2010 and were included on a DVD given away as a door prize.
The music was interspersed with talk of what the club has been doing as well as what's going on today. There were also door prizes including CD's, DVD's, and a subscription to "Acoustic Guitar Magazine." We welcomed several new members and everyone enjoyed the music, the camaraderie and the pleasant atmosphere at Towpath Café on the canal.
...and here's the play list for the evening: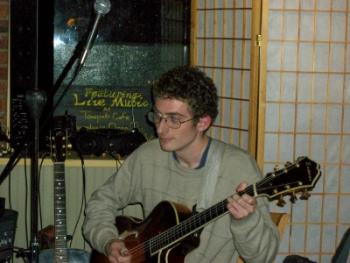 Zach Noyes
Maynard Penlon, "White Christmas" (Irving Berlin)
♫ Maynard is an open-mike host at Towpath
Richard Taglieri, "I Saw Three Ships" (variant of Greensleeves)
♫ an original member and founder
John Williamson, "It Came Upon the Midnight Clear" (Edmund Sears)
♫ a core member
Jeremy Carter, "God Rest Ye Merry Gentlemen/ We Three Kings/Good King Wenceslas/We Wish You a Merry Christmas" (traditional/Hopkins/Neale/traditional)
♫ a core member
Zach Noyes, "Gypsy Dog" (original)
♫ Zach is a new member
Bernie Lehmann, "What Cat is This?" (non-traditional!)
♫ our first host
Sherwin Temple, "Have Yourself a Merry Little Christmas" (Martin & Blane)
♫ on electric guitar
Kimo & Kai'ulani, "Meandering Jelly/Silent Night" (Gulezian/Gruber)
♫ including a touching tribute to those lost at Pearl Harbor written and recited by Kai'ulani
Chuck Dye, "I'll Be Home for Christmas" (Walter Kent)
♫ on his 7-string guitar
Phil St. George, "Chestnuts/Bohemian Rhapsody
♫ remembering the old days
Kinloch Nelson, "Little Drummer Boy/Joy to the World/Angels We Have Heard on High" (Kennicott/Mason/Barnes)
♫ an original member and founder
Round Two
Zach, "Jingle Bells" (James Pierpont)
Maynard, "Sweets Dreams for Noel" (original)
Jeremy, "Silent Night" (Gruber)
♫ Mannheim Steamrollers style
Ian Finn, "Is There Anybody Out There?" (from Pink Floyd)(Bob Ezrin)
♫ Ian is a new member
Bernie, "We Three Kings" (Hopkins)
Sherwin, "Jingle Bell Rock" (Beal/Boothe)
~R. Taglieri
Share this page:

Facebook

Del.icio.us

StumbleUpon

Digg

Reddit