RGC Round Robin at Asbury Red Room, April 16, 2012
Our second meeting at the Red Room, 1010 East Avenue was a traditional round robin session. Since there is no stage in the room, we abandoned our performer/audience format of the last several years and went back to our original "round robin" approach, as we had done in the early days at Bernie Lehmann's studio.
Appropriately enough, Bernie was on hand for the occasion along with fifteen or so other guitar enthusiasts. As lively conversation intermingled with the music, we enjoyed the sounds of Bernie's resonator guitar, Scott Topel's harp guitar and Mark Grover's electric guitar, just to mention a few of the musical treats provided. Except for the electric guitar, no amplification was needed in this splendid room.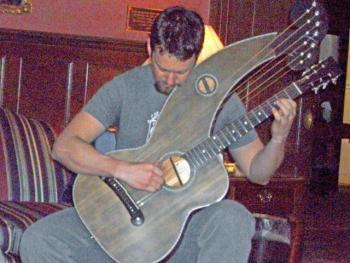 Scott Topel
Here is the play list:
Kinloch Nelson, "Vaya con Dios" (Russel/James/Pepper)
John Williamson, "As Time Goes By" (Herman Hupfeld)
Richard Taglieri, "Falcon Soaring" (Andrew Forrest)
Mark Grover, "The Water Garden" (Alex deGrassi)
Dave Jones, "Chant" (Andrew York)
Bernie Lehmann, "Sleepwalk" (Santo & Johnny)
Ross Bracco, "Claire de Lune" (Debussy)
Scott Topel, "Chavaz Song" (Michael Hedges)
Jeremy Carter, "Piano Man" (Billy Joel)
Phil St. George, "Nuages" (Django Reinhardt)
Bob Hogan, untitled (original)
Mike Reynolds "Something" (George Harrison)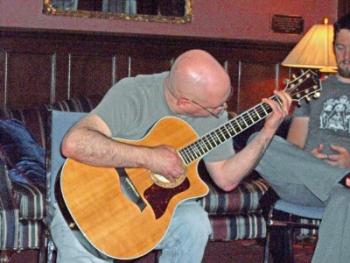 Ross Bracco
Round 2:
Kinloch, "Summer Farewell" (original)
John, "Slinky" (arr. Chet Atkins)
Richard, "Mazurka in D minor" (arr. Schianini)
Mark, "No Goodbyes" (Don Ross)
Dave, "Walking" (Andrew York)
Bernie, "Honey Pie" (Beatles)
Ross, "Night Train" (standard)
Scott, "Stitchman's Way" (?)
Phil, "Manhã de Carnaval" (Luiz Bonfá)
Jeremy, "Tennessee Waltz"(Stewart/King)
~R. Taglieri
Share this page:

Facebook

Del.icio.us

StumbleUpon

Digg

Reddit