RGC Presenters' Concert at the Harmony House, May 4, 2012
♪ Since 2008, RGC has maintained a tradition of Presenters' Concerts at the historic Harmony House in Webster. Featuring three or four recent presenters, these performances offer an exciting variety of guitar styles. Although all of the performers on this occasion are associated with the Eastman School of Music, a broad range of guitar styles was presented.
After an introduction by Kinloch Nelson, John Covach played the first set. John, who is chair of the Music Theory Department at ESM delivered a presentation Rock Guitarists and Their Use of Classical and Fingerstyle Techniques to RGC on March 19 at our first meeting in the Red Room at Asbury Church. (link) Tonight's performance reflects that informative event.
~Richard Taglieri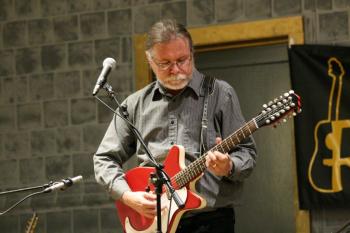 John Covach
♪John Covach, a mild-mannered University of Rochester professor, arrived armed and dangerous, with an arsenal of six and twelve-string guitars, both acoustic and electric. He showed that he's a considerable guitarslinger, covering many sounds and playing styles. Think—Nashville, England, Spain and points in between as he covered British invasion tunes and progressive rock and played two tastily crafted originals.
John started on acoustic six-string guitar to offer his original "On The Way," an up tempo fingerstyle piece with major and minor tonality. He followed that with his arrangement of Pink Floyd member, Roger Waters' "Wish You Were Here," an appropriately wistful treatment featuring harmonics on his acoustic twelve-string.
The Beatles were strongly represented with a three-song medley of "Can't Buy Me Love," "Norwegian Wood," and "I Feel Fine." His playing was influenced by the "Chet Atkins Picks On The Beatles" album, so appropriately he used his Gretsch Tennessee Rose electric, complete with the almost mandatory Bigsby vibrato.
"The Rain Song" was next, played on a Danelectro twelve-string electric. This Led Zeppelin piece featured pedal tones and "that sound," obtained by using an open tuning.
John's second original, "Pencil," was played on a nylon string acoustic guitar. It is derived from another piece, "Mechanical Pencil," which is found on the CD by his band "Land of Chocolate." This piece was played with a thoughtful flowing style that seemed quite at home on the nylon string guitar.
Steve Howe of "Yes" fame was the inspiration for the last two pieces. "Mood For A Day," an example of '70s progressive rock, was played using the nylon-string guitar, with hints of the sound and textures of flamenco playing. John brought back his six-string acoustic box on his "Steve Howe Medley" to deliver impressive fingerpicking on "Mellow Rag," and "Clap."
To sum up, John Covach is not only a rock (and Fulbright) scholar, but a Rock Player. He brought the tools and the techniques, and demonstrated how the genre was nurtured by players who strove to expand the possibilities of the guitar and of rock music.
~John Williamson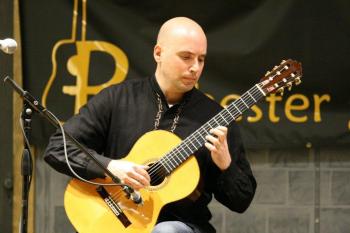 Matthew Ardizzone
♪Matthew Ardizzone presented Total Recall-"Harnessing the Power of the Mind to Enjoy Playing by Heart on May 17, 2010 at Abilene's.
Matthew Ardizzone, currently the Associate Dean of Admissions at the Eastman School of Music, was the first guitarist to receive a doctorate in performance from ESM. The audience during his set was treated to what might seem to be opposites: precision playing countered with flowing melody and phrasing. These were clearly demonstrated in his opening piece, Torroba's "Nocturno."
A trio of mazurkas came next: Mertz' "Mazurka in D," Coste's "Menuetto alla mazourka," and Legnani's Mazurka." Common among them were the waltz meter and changes between major and minor tonality. Matthew mentioned in the introduction to the Mertz piece that its roots were in the traditional dances of the period, as opposed to the influence of Frederic Chopin's many mazurkas.
Edward Flower, a former teacher of Matthew arranged the next two Scottish pieces, "Wild Mountain Thyme," and "Nottamun Town." "Wild Mountain Thyme" used an alternate (dropped) tuning to yield lower bass notes and a rich harmonic air reminiscent to this reviewer of the song "Oh Shenandoah." Matthew very quickly and subtly re-tuned his guitar to continue with "Nottamun," a melancholy piece featuring harmonics and tapping of his thumb on the guitar bridge for percussive effect.
Next on the program was "Ráfaga, Op. 53," a flamenco-flavored piece. Matthew noted that although the flavor of flamenco was there, a skilled flamenco dancer probably wouldn't recognize it as a classic/traditional flamenco piece.
Matthew closed his part of the program with Tárrega's "Recuerdos de la Alhambra." "Recuerdos" will probably be forever thought of as "the" piece inextricably linked with the classical guitar's tremolo technique. It was played extraordinarily well by Matthew with a beautiful effect that comes as close as one can get to long sustained notes on the guitar.
To sum up, Matthew's superb technique and precise performances showcased the skills and the artistry that he and his guitar offer to classical music and the concert stage.
~John Williamson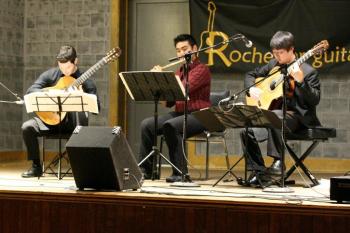 Mark, Norman & Sungmin
♪ After intermission, the mood changed once again as Sungmin Shin, an intern in the guitar department at the Eastman Community Music School, introduced a classically oriented latin theme. Sungmin was first introduced to RGC in January 2012 when he presented Chords and Voicings Made Simple.
For tonight's performance, he was joined by flautist, Norman Gonzales. The lovely combination of flute and guitar generated a great deal of excitement as the driving rhythms joined the tapping and harmonics of the guitar with the soaring sounds of the flute. The entire set was an ongoing display of virtuosic articulation with strong contrasts in rhythm and dynamics.
They opened with the fascinating "Histoire du Tango" by Astor Piazzolla which comprises four sections of tango tunes representing various periods of development from 1900 to the present day. This piece began with the lively dance "Bordelle" imitating the chatter of women around 1900 at which time the tango was still primarily a dance form. This was followed by "Café" from circa 1930 when audiences were beginning to listen to the music as well as dancing to it. The third section "Night-Club" characterized the 1960's when the tango exploded onto the international scene. The final movement "Concert d'aujourd'hui" relected the influences of modern composers including Stravinsky.
After the dramatic showcase for the tango, Sungmin and Norman were joined by guitarist Mark Appling for the remainder of the program. On a quieter note, we now listened to the familiar strains of the charming, popular Mexican tune "Estrellita." The concert then concluded with a rousing rendition of "Tico-Tico no Fubá adding cadenced accents on castanets as well as dramatic flourishes on piccolo and flute by Norman. As Sungmin said—this music was great fun for them—and it was for us, as well! We look forward to Sungmin's next Presentation for RGC on July 16, "Exploring Scales on the Fretboard."
~Richard Taglieri
Photos by Dave Townsend
Share this page:

Facebook

Del.icio.us

StumbleUpon

Digg

Reddit