RGC Round Robin at Asbury Red Room, June 18, 2012
Once again RGC members shared songs in true round robin fashion. Styles ranged from classical to tapping, and instruments varied from acoustic and nylon to our resident luthier's specially made tricone resonator six and ten-string guitars.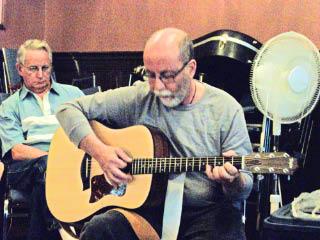 Bob Hogan
Mark Grover, "No Alibis" (Thomas Leeb)
Richard Taglieri,"Somebody Loves Me" (George Gershwin)
Jeremy Carter, medley: Cowgirl, Our House, Teach Your Children (Crosby, Stills & Nash)
Bob Hogan, "Circle Dance" (Bonnie Raitt)
David Langmann, "Study" (F. Sor)
Dan Bellanca, "Oh, Well," part 2 (Peter Green)
Phil St. George, "Someday My Prince Will Come" (Churchill/Morey)
Ralph Harstad, "In My Life" (Beatles: Lennon/McCartney)
Ian Finn & Phil St. George, "Blues in E" (jam)
Bernie Lehmann, medley in dropped thumb, tricone resonator guitar made by Bernie
.
.
.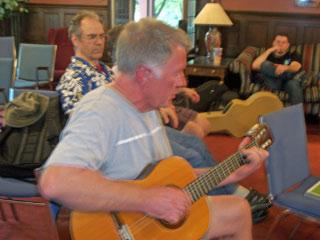 Ralph Harstad
…and then:
Jeremy, "Dream a Little Dream of Me" (Fabian Andre & Wilbur Schwandt, lyrics by Gus Kahn)
Mark, "Sleeping Lady" (Alex de Grassi)
Richard, "Vals Triste" (Gerald Garcia)
Phil, "Darn That Dream" (Jimmy Van Heusen)
Bob, "Butterfly" (original)
David, "Prelude in C Major" (Handel)
Bernie, "Bye Bye, Black Bird" (Henderson)
Bernie & Dan Feuerstein, "Duelling Banjos" (Arthur Smith)
.
.
.
.
…encore:
David, "West Coast Blues" (Blind Blake)
Mark, "Wave From Your Window" (Don Ross)
Jeremy, "Black Bird" (Beatles)
Ian, "Is There Anybody Out There?" (Pink Floyd)
Mark,"Is There Anybody Out There?" (Pink Floyd)
…ending with more Blues in E with group participation.
Click here to send corrections.
~R. Taglieri
Share this page:

Facebook

Del.icio.us

StumbleUpon

Digg

Reddit