RGC Holiday Meeting in the Red Room, December, 17, 2012
♪ The Red Room was cheerfully decorated when RGC held its annual holiday meeting Monday evening. Members were in a festive mood as they shared music and conversation. Light refreshments were served and no one went home without a door prize! The meeting also included announcements of future events and a financial report for the year. Jeremy showed off his new electronic note sustaining device while Mark played his baritone guitar. Here's the play list: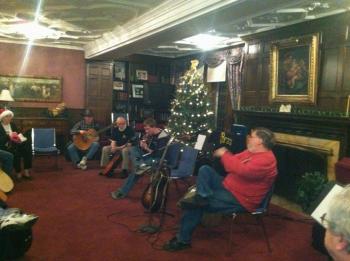 Holiday Meeting in the Red Room
Mike Bernardi, "Jingle Bells" (Pierpont)
Jonathan Gates, medley
Phil St. George, "There Is No Greater Love" (Isham Jones)
Steve Voltz, "The Digger's Waltz" (Tommy Emmanuel)
John Williamson, "It Came Upon a Midnight Clear" (Sears/Willis)
Richard Taglieri, "The Night Before Christmas" (arr. Marks)
Jeremy Carter, "Silent Night" (Gruber)
Kinloch Nelson, "The Little Drummer Boy" medley (Davis)
Marty Pospula, "Christmas Song" (Torme/Wells)
Mark Grover, "God Rest Ye Merry Gentlemen" (arr. McLaughlin)
Samuel Asker, "Sam's Rag" (original)
John Williamson & Richard Taglieri, "As Time Goes By" (Hupfeld)
Encore!
John & Richard, Jingle Bells" (Pierpont)
Mark, "No Alibis" (arr. Leeb)
Jeremy, Christmas medley
Richard, "Silver Bells" (Livingston/Evans)
Kinloch Nelson, "Greensleeves" (traditional)
~R. Taglieri
Photo: Phil St. George
Share this page:

Facebook

Del.icio.us

StumbleUpon

Digg

Reddit