Fourth Annual RGC Presenters' Concert, June 3, 2011
On a pleasant Friday evening in June, Rochester Guitar Club continued its tradition of Presenters' Concerts with its fourth annual event at Harmony House. Harmony House is a three-story building dating from 1899. It was purchased in 1974 by the Chorus of the Genesee, an organization devoted to preserving the original American art form of Barbershop Harmony. It has been restored and still functions as a Grange Hall. It is also used by Heartland Music who help to support RGC. It is a fascinating piece of architecture as well as a popular venue for classical, folk and other acoustic music, and this building would be a worthwhile subject for an historical tour.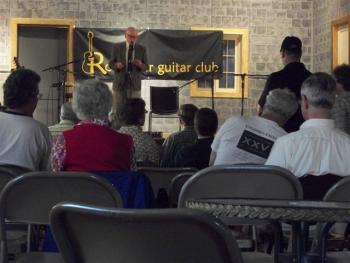 MC John Williamson
These concerts are traditionally held in the spring and feature three or four presenters from the previous year. This year's artists were Kinloch Nelson, Petar Kodzas and Bob Sneider, three fabulous musicians, well known locally, nationally, and internationally as educators and performers. The evening began with a thorough and well informed introduction by RGC member, John Williamson. After a review of the Club's activities and information on how to contact us, we learned from John some of the interesting background of each artist. This year's event reflects a departure from past events by featuring an in-the-round format with each artist taking a turn at sharing a favorite piece with us. In the past, each player has performed a separate set. So, for the next two hours and more, we listened to jazz, classical and traditional popular songs as well as original compositions. We heard quiet melodies and aggressive dissonance, improvisation and carefully structured music.
Each artist has his own individual style and repertoire. But the three also have a great deal in common. Each is a master of the instrument. Each is not only technically skilled, but artistically adept at sharing his favorite music with the audience. Each is capable of quiet, lyrical passages, aggressive, rousing riffs and everything in between. If you watch them carefully, you might notice Bob checking his tuner or Petar examining his fingernails while Kinloch retunes his strings. When they come to the end of a tune, you will see each one pluck that final note, chord, or harmonic with a craftsman's precision much as an artist would add with a flourish the final brushstroke.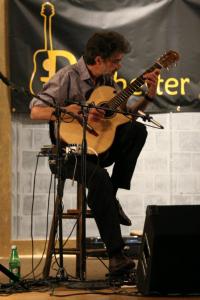 Kinloch Nelson
KINLOCH NELSON, RGC Core member and cofounder of RGC as well as the earlier Rochester Guitar Society, is a fingerstylist playing in multiple genres from Bach to the blues. In addition to teaching in area music schools and privately, he has appeared in concert all over the U.S., as well as in Canada, Peru, and Ireland. Kinloch claimed he was first to play since he had drawn the short straw. His playing reassured us, though, with his distinctive soothing style that he was, indeed, happy to play for us. From his characteristic perch on a high stool with the guitar on his left knee betraying classical influences, Kinloch kicked off the performance with his own "Song of India." When his turn came around again, we heard "Lazin' in my Sleep," a typical dreamy Kinloch song with rich harmonies and soothing rhythms. But as the evening progressed, we encountered a much broader palette. His next selection "Astraea" drew from Miles Davis, Schubert, Flatt & Scruggs and even Mussorgsky all in the same song! We have learned before from Kinloch that his quest is for just the right sound quality for each note. To that end he uses a variety of tone colors, vibrato, harmonics and at times a gentle finger brushing of the strings, always with wit and charm.
During the break, Kinloch was asked to play something folksy. His response was Stephen Foster's "O Susanna." This was not to be a rendition that Foster would recognize, however. As Kinloch explained he follows an emotional path from light and hopeful to dark and catastrophic and back again, much like the progression of a Cowboy movie, with Indian attack and rescue and all, and ending with the protagonist finally at peace again with the banjo on his knee. All this "Sturm und Drang" was accomplished with lyrical melodies and violent chords. Kinloch had learned the banjo licks on the guitar from Danny Gatton. and created his own "Banjectomy" a guitarist's impression of a banjo player in which the player goes on a rampage with fast licks and furious right hand strumming. Even Petar and Bob were taken by surprise with this one! Kinloch's last piece was "Go Away Little Girl," the only vocal of the night. He had first heard this song on the radio when he was seven years old, and it's still on his mind.
PETAR KODZAS was once on a path to become a mechanical engineer in Belgrade in what was then Yugoslavia, but when he discovered a nineteenth century parlor guitar in his grandfather's closet the engineering career was over! A graduate of the University of Belgrade, he toured and recorded on lute with an early music ensemble, played over one hundred shows with a professional musical theatre, sat in on jazz sessions, and performed around the former Yugoslavia as a musical ambassador, eventually moving to the U.S. Today, Petar is a faculty member at the University of Rochester's Eastman School of Music and Eastman Community Music School.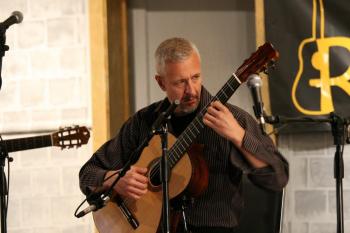 Petar Kodzas
Petar soon had our attention with his meticulous exposition of Brazilian music with all its characteristic rhythms, articulation and variety of colors. Petar is very much a classical guitarist, but also has a thorough knowledge of folk and popular music. He plays in traditional classical form with the instrument on the left leg, but uses the currently popular guitar support instead of a foot stool. He has done his own personal study of Brazilian music specializing in the music of Radamas Gnattali. Petar combined Gnattali's music with Villa-Lobos' "First Study in E minor" for a thoroughly Brazilian effect. Just before the break, he chose to play a classical standard, the well known "Recuerdos de la Alhambra by Tarrega." It was brilliantly executed and much loved by the audience. After intermission, we heard more music of Gnattali, "Toccata em ritmo de Samba," akin to Handel playing Jobim and "Saudade," a plaintive song in the nostalgic style of Brazilian "Choro." Petar's final piece combined a slow and a fast song in the Renaissance style, including "Indian Dance." The audience was surprised to hear quotes from "Smoke in the Water" by Deep Purple."
Bob Sneider
BOB SNEIDER is a Downbeat magazine award winner, Eastman faculty member, known associate of Grammy award winners, performer in major festivals, concert halls and jazz clubs throughout South America, Central America, North America and Europe. He has played in just about every venue of note right here in Rochester including the Rochester Philharmonic and the nightly jam sessions he heads during the Rochester International Jazz Festival.
Opening with "Autumn Leaves," Bob then quizzed us with a medley of familiar songs; "Who was the composer?" The songs were "What'll I Do?" "God Bless America" and "How Deep is the Ocean?" and the composer was Irving Berlin. In his wry way, Bob informed us that "What'll I Do?" was his own question before the performance! Coincidently, I had the good fortune to attend a lecture a few days later by Michael Lasser of "Fascinatin' Rhythm," a Peabody award winning PBS radio program. Lasser's fascinating lecture focused on the quintessentially American Berlin who was born in Russia and began his career as a singing waiter.
Bob can move between standard melodies and improvisation in a heartbeat. His style is angular, but lyrical. His music is rich with typical jazz seventh and beyond chords and rich harmonies. He is articulate, sophisticated and very comfortable with improvisation. Bob plays in the traditional acoustic style with his f-hole archtop jazz guitar perched on the left leg, but at times, he plays standing with a strap.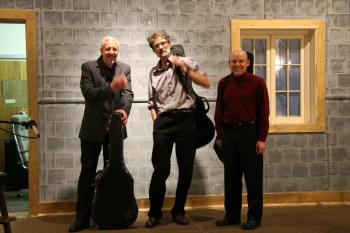 Petar, Kinloch & Bob
Also among Bob's selections were Nat King Cole's "You're My Everything" which he dedicated to his wife and not his congressman, and the beautiful "Stardust." (not Starbucks!) Many guitarists avoid this song in Db which begins on the fourth chord Gb, not a friendly key on a stringed instrument. At times Bob's notes come rolling out like a runaway locomotive. One listener observed to me that he heard from Bob more notes per square inch than ever before…and yet, there are a plenty of sweet licks in there, too! He played a George Gershwin medley inviting us to figure out the tunes as he did the same. Among the tunes were "Embraceable You" and "Love Walked In." A comment on this song was that the playing was so complete you could nearly hear the bass and brushes on the cymbals as you listened. Bob's final tune was an original, "Mini Me," a tongue-in-cheek title for his little son.
The old Grange Hall with its elegant herringbone wood paneled ceiling echoed old and new sounds this evening making its own contribution to the delightful experience we all enjoyed as we listened to three of Rochester's favorite guitarists, each of whom was well received and roundly applauded.
Artists' Previous Appearances for RGC:
Kinloch Nelson:
January 17, 2011 — Presentation on Alternate Tunings
May 1, 2009 — Second Annual Presenters' Concert
September 14, 2008 — Presentation on the Caged System
Petar Kodzas:
May 16, 2011 — Music of Brazilian Composer Radames Gnattali
December 20, 2010 — A Christmas Celebration
June 6, 2008 — First Annual Presenters' Concert
May 14, 2007 — Petar Kodzas Presents

Bob Sneider:
November 15, 2010 — Fretboard Harmony through the Eyes and Ears of a Jazz Player
—R. Taglieri
Photos: Dave Townsend, M. Taglieri
Share this page:

Facebook

Del.icio.us

StumbleUpon

Digg

Reddit